CompTIA Security+ SY0-301 Authorized Practice Questions Exam Cram, 3rd Edition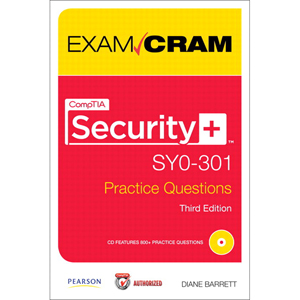 CompTIA® Security+ SY0-301 Practice Questions Exam Cram, Third Edition, offers all the exam practice you'll need to systematically prepare, identify and fix areas of weakness, and pass your exam the first time. This book and CD complement any Security+ study plan with more than 800 practice test questions—all supported with complete explanations of every correct and incorrect answer—covering all Security+ exam objectives, including network security; compliance and operation security; threats and vulnerabilities; application, host and data security; access control and identity management; and cryptography.
Covers the critical information you'll need to know to score higher on your Security+ exam!
Features more than 800 questions that are organized according to the Security+ exam objectives, so you can easily assess your knowledge of each topic.
Use our innovative Quick-Check Answer System™ to quickly find answers as you work your way through the questions.
Each question includes detailed explanations!
Our popular Cram Sheet, which includes tips, acronyms, and memory joggers, helps you review key facts before you enter the testing center.
Diane M. Barrett (MCSE, CISSP, Security+) is the director of training for Paraben Corporation and an adjunct professor for American Military University. She has done contract forensic and security assessment work for several years and has authored other security and forensic books. She is a regular committee member for ADFSL's Conference on Digital Forensics, Security and Law, as well as an academy director for Edvancement Solutions. She holds many industry certifications, including CISSP, ISSMP, DFCP, PCME, and Security+. Diane's education includes a MS in Information Technology with a specialization in Information Security. She expects to complete a PhD in business administration with a specialization in Information Security shortly.
Book Details
Paperback: 400 pages
Publisher: Pearson IT Certification; 3rd Edition (December 2011)
Language: English
ISBN-10: 0789748282
ISBN-13: 978-0789748287
Download [2.0 MiB]