CISSP Study Guide, 2nd Edition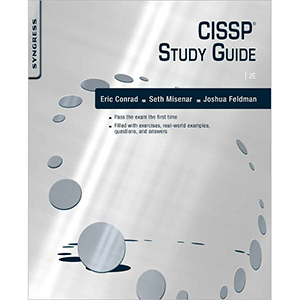 The CISSP certification is the most prestigious, globally-recognized, vendor neutral exam for information security professionals. The newest edition of this acclaimed study guide is aligned to cover all of the material included in the newest version of the exam's Common Body of Knowledge. The ten domains are covered completely and as concisely as possible with an eye to acing the exam.
Each of the ten domains has its own chapter that includes specially designed pedagogy to aid the test-taker in passing the exam, including: Clearly stated exam objectives; Unique terms/Definitions; Exam Warnings; Learning by Example; Hands-On Exercises; Chapter ending questions. Furthermore, special features include: Two practice exams; Tiered chapter ending questions that allow for a gradual learning curve; and a self-test appendix
Provides the most complete and effective study guide to prepare you for passing the CISSP exam-contains only what you need to pass the test, with no fluff!
Eric Conrad has prepared hundreds of professionals for passing the CISSP exam through SANS, a popular and well-known organization for information security professionals.
Covers all of the new information in the Common Body of Knowledge updated in January 2012, and also provides two practice exams, tiered end-of-chapter questions for a gradual learning curve, and a complete self-test appendix.
Table of Contents
Domain 1. Information Security Governance and Risk Management
Domain 2. Access Control
Domain 3. Cryptography
Domain 4. Physical (Environmental) Security
Domain 5. Security Architecture and Design
Domain 6. Business Continuity and Disaster Recovery Planning
Domain 7. Telecommunications and Network Security
Domain 8. Application Development Security
Domain 9. Operations Security
Domain 10. Legal, Regulations, Investigations, and Compliance
Book Details
Paperback: 600 pages
Publisher: Syngress; 2nd Edition (September 2012)
Language: English
ISBN-10: 1597499617
ISBN-13: 978-1597499613
Download [22.2 MiB]