Cfengine 3: Beginner's Guide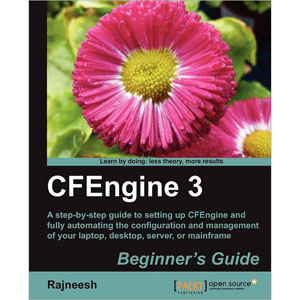 Cfengine is a compact automation framework primarily used to provide automated configuration and maintenance of laptops, desktops, servers, and mainframes. It is not a very complex framework, but certainly is extensive. There is too much to learn and it is hard to convey in a simple way what the software can do. That is where this book steps in and saves your day.
Cfengine 3 Beginner's Guide is the first and only book dedicated to Cfengine. It dives deep into using the framework's 'promise' language to solve complex data center problems. Find all the details you'll need about using the advanced functions and variables, with easy-to-understand examples. The book also covers complex work flows that showcase the framework's possibilities.
This book starts off with step-by-step instructions for installing and configuring the Cfengine server and clients, and moves on to configuring systems using Cfengine scripts. The author then walks you through the policy decision flow, conducting system and security audits.
This is followed by detailed discussions, through various examples, on how you can use Cfengine to configure systems, users, networks, databases, web servers et al. Adding to this, the book also provides a list of best practices, Cfengine policy decision flow, and how you may use the Cfengine Orion Cloud pack. By the end of the book you should be able to write policies for automating your complex data centre tasks.
Automate your Builds, Deployments, Management, and Audits with one efficient, dependable and versatile Cfengine framework.
What you will learn from this book:
Install and configure the Cfengine environment including the server and clients. Understand the Cfengine policy decision flow.
Build complete systems including laptops, desktops, servers, mainframes, etc. with minimal human intervention across multiple nodes.
Conduct system audits and detect anomalies in the desired state of a system.
Schedule various tasks from a centralized policy server and make changes to multiple systems' state by making those changes on a single centralized policy server.
Syntax and usage of various controls; Cfengine provides relevant and easy to understand examples.
Monitor services and system states from a centralized policy server.
Write complex work flows to solve complex data centre issues.
Use advanced functions and variables inbuilt in Cfengine.
Implement best practices for effective change management and infrastructure management.
Create and manage a knowledge base with an inbuilt knowledge management tool.
Approach
Part of Packt's Beginner's Guide series, this book guides you through setting up Cfengine to maximizing its potential. This book focuses on getting you through all the major learning points in a smooth, logical order. You'll also learn how to avoid some common pitfalls.
Who this book is written for
If you are a System Administrator or Configuration manager with a growing infrastructure and if you are looking for a dependable tool to manage your infrastructure, then this book is for you. If your infrastructure is already big with hundreds and thousands of nodes and you are looking for a secure, versatile and stable configuration management tool, you will still find this book handy. You don't need any prior experience of Cfengine to follow this book.
Book Details
Paperback: 336 pages
Publisher: Packt Publishing (October 2011)
Language: English
ISBN-10: 1849514984
ISBN-13: 978-1849514989
Download [2.9 MiB]