Cacti 0.8 Beginner's Guide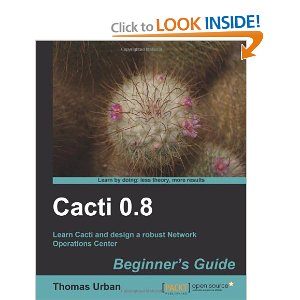 Cacti is a performance measurement tool that provides easy methods and functions for gathering and graphing system data. You can use Cacti to develop a robust event management system that can alert on just about anything you would like it to. But to do that, you need to gain a solid understanding of the basics of Cacti, its plugin architecture, and automation concepts.
Cacti 0.8 Beginner's Guide will introduce you to the wide variety of features of Cacti and will guide you on how to use them for maximum effectiveness. Advanced topics like the plugin architecture and Cacti automation using the command-line interface will help you build a professional performance measurement system.
Designed as a beginner's guide, the book starts off with the basics of installing and using Cacti, and also covers the advanced topics that will show you how to customize and extend the core Cacti functionalities. The book offers essential tutorials for creating advanced graphs and using plugins to create enterprise-class reports to show your customers and colleagues.
From data templates to input methods and plugin installation to creating your own customized plugins, this book provides you with a rich selection of step-by-step instructions to reach your goals. It covers all you need to know to implement professional performance measurement techniques with Cacti and ways to fully customize Cacti to fit your needs.
By the end of the book, you will be able to implement and extend Cacti to monitor, display, and report the performance of your network exactly the way you want.
A comprehensive guide to learning Cacti and using it to implement performance measurement and reporting within a Network Operations Center
What you will learn from this book :
Set up Cacti on Linux and Windows systems
Extend the core functionality by using the plugin architecture
Build your own custom plugins
Create your own custom data input method to retrieve data from your systems
Use SNMP, SSH, and WMI to retrieve remote performance data
Design and create enterprise-class reports with the reporting plugins
Implement threshold-based alerting using the Thold plugin
Automate common administrative tasks utilizing the command-line interface and the autom8 plugin
Enable mobile access to your Cacti installation for your end users
Approach
Written for beginners to Cacti, this book contains step-by-step instructions and hands-on tutorials for network operators to learn how to implement and use the core Cacti functions. The book is designed in such a way that you can explore it chapter-by-chapter or skip any chapter without missing a beat.
Who this book is written for
If you are a network operator and want to use Cacti for implementing performance measurement for trending, troubleshooting, and reporting purposes, then this book is for you. You only need to know the basics of network management and SNMP.
Book Details
Paperback: 348 pages
Publisher: Packt Publishing (March, 2011)
Language: English
ISBN-10: 1849513929
ISBN-13: 978-1849513920
Download [14.0 MiB]