Building Web, Cloud, and Mobile Solutions with F#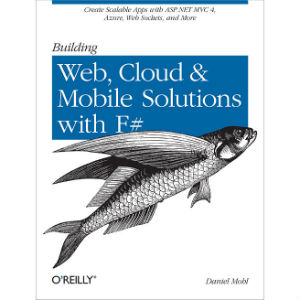 Learn how to build key aspects of web, cloud, and mobile solutions by combining F# with various .NET and open source technologies. With helpful examples, this hands-on book shows you how to tackle concurrency, asynchrony, and other server-side challenges. You'll quickly learn how to be productive with F#, whether you want to integrate the language into your existing web application or use it to create the next Twitter.
If you're a mid- to senior-level .NET programmer, you'll discover how this expressive functional-first language helps you write robust, maintainable, and reusable solutions that scale easily and target multiple devices.
Use F# with ASP.NET MVC, ASP.NET Web API, WCF, Windows Azure, HTML5, CSS3, jQuery Mobile, and other tools
Build next-generation ASP.NET MVC 4 web applications, using F# to do the heavy lifting on the server
Create WCF SOAP and HTTP web services
Develop F# web applications and services that run on Windows Azure
Build scalable solutions that allow reuse by mobile and web front-ends
Use F# with the WebSharper and Pit frameworks to build end-to-end web stacks
Table of Contents
Chapter 1. Building an ASP.NET MVC 4 Web Application with F#
Chapter 2. Creating Web Services with F#
Chapter 3. To the Cloud! Taking Advantage of Azure
Chapter 4. Constructing Scalable Web and Mobile Solutions
Chapter 5. Functional Frontend Development
Appendix A. Useful Tools and Libraries
Appendix B. Useful Websites
Appendix C. Client-Side Technologies That Go Well with F#
Book Details
Paperback: 176 pages
Publisher: O'Reilly Media (November 2012)
Language: English
ISBN-10: 1449333761
ISBN-13: 978-1449333768
Download [7.6 MiB]