Beginning Windows Phone 7 Application Development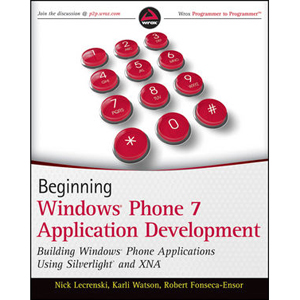 Discover the core concepts essential for developing apps for Windows Phone
Silverlight and XNA provide you with a powerful development platform and key tools for programming Windows Phone 7 series applications. This book offers a foundation for using the tools required for Windows Phone 7 development, including Visual Studio 2010 Express Edition, the Windows Phone 7 Series SDK, and Silverlight. Experienced authors provide you with detailed coverage on developing accordingly for an application's lifetime, accessing cloud services, and developing notification services.
Explains how to use the most up-to-date tools and development platforms to create applications for the Windows Phone 7
Walks you through developing notification services and location services
Demonstrates ways to generate revenue by deploying your apps to the Windows Phone Marketplace
Details the steps for enabling trial periods for applications and providing updates and new versions of apps
If you're eager to get started developing applications for the Windows Phone 7, then this is the beginner guide for you.
From the Back Cover
Develop apps for Windows Phone 7
Sharing valuable insight for using the powerful programming tools from Microsoft (such as Silverlight, XNA, and Visual Studio 2010 Express Edition), this book explains how to develop applications for Windows Phone 7 using your existing C# and .NET programming skills. The team of authors explores the various cloud and portal services that will enhance your development experience, and they detail ways to enrich your apps even further with isolated storage and the Silverlight toolkit. In-depth coverage of the Windows Phone 7 application life cycle and advice on interacting with the hardware and using Expression Blend to create richer user interfaces help you learn to create unique and helpful apps for Windows Phone 7.
Beginning Windows Phone 7 Application Development:
Provides a history of the Windows Phone operating system and reviews how Windows Phone 7 differs from its predecessors
Demonstrates how to best use page navigation, brushes, colors, themes, and more
Details ways to ensure that the user has a smooth transition from a suspended application state back to a working app
Reviews standardized features such as launchers and choosers
Explains how to build web services that make data available to any other device that supports web service consumption
Book Details
Paperback: 600 pages
Publisher: Wrox (May 2011)
Language: English
ISBN-10: 0470912332
ISBN-13: 978-0470912331
Download [44.4 MiB]