Axure RP 6 Prototyping Essentials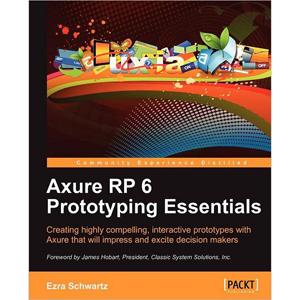 Wireframes, interactive prototypes, and UX specifications are among the fundamental deliverables of every UX project. They are also the most labor and time intensive to produce due to constant changes in business requirements. Given these circumstances, Axure is quickly taking over as the preferred tool for prototyping. However, prototyping in Axure is strikingly different from the conventional method of producing static wireframes and to rapidly develop interactive prototypes in Axure, you'll need to have a good understanding of the tool and its features.
Whether you are an individual practitioner or a member of a UX team, a consultant, or an employee, this book will teach you how to use Axure, one of the leading UX tools. You will learn to use Axure for producing top-quality deliverables and tackling the demands of rapid iterative UX projects of any complexity and size, and for any platform and device.
Axure RP 6 Prototyping Essentials takes a very pragmatic approach to showing you how to use Axure and produce impressive deliverables while saving labor and time. You may not be in a position to change how projects are scheduled, budgeted, and managed, but you can be more creative and productive by mastering one of the leading UX tools in the market.
After an initial introduction to Axure's user interface, terminology, and features, this book walks you through a medium-size UX project: a digital library that sells books, newspapers, and movies. Although some aspects of the prototyping process are simplified for the sake of clarity and efficiency, the demo project is an opportunity to discuss in context and in sequence topics such as addressing business and technical requirements, handling use cases and flow diagrams, low and high fidelity wireframe construction, interactivity, writing annotations, generating detailed UX specifications, and traceability.
For the most part, Axure 6 RP Prototyping Essentials can be read in sequence or used as a reference guide.
What you will learn from this book
Learn the essential principles of prototyping
Construct well-formed wireframes
Create interactive prototypes in low and high fidelity
Manage iterative design workflow
Annotate and generate UX specifications documents
Team work: Develop UX prototypes using Axure's collaboration features
Use and create custom widgets and libraries for interaction and visual design patterns
Plan and organize your prototype to support complex, multiple-phased projects
Approach
Axure RP 6 Prototyping Essentials is a detailed, practical primer on the leading rapid prototyping tool. Short on jargon and high on concepts, real-life scenarios and step-by-step guidance through hands-on examples, this book will show you how to integrate Axure into your UX workflow.
Who this book is for
This book is written for UX practitioners, business analysts, product managers, and anyone else who is involved in UX projects. The book assumes that you have no or very little familiarity with Axure. It will help you if you are evaluating the tool for an upcoming project or are required to quickly get up to speed in a project you just joined. The book assumes some familiarity with the principles of the User Centred Design methodology.
Book Details
Paperback: 446 pages
Publisher: Packt Publishing (January 2012)
Language: English
ISBN-10: 1849691649
ISBN-13: 978-1849691642
Download [25.9 MiB]