Avid Media Composer 6.x Cookbook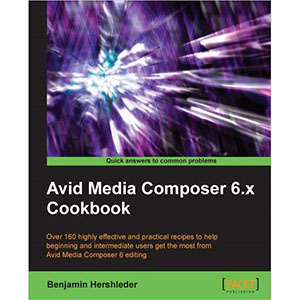 Avid Media Composer has become the tool of choice by editing professionals worldwide. Whether your project involves editing television programming, independent films, corporate industrials or commercials, this cookbook shows you exactly how to do so in a step-by-step and practical manner, and get the most out of Avid Media Composer editing.
"Avid Media Composer 6.x Cookbook" is an expert, clear and logically-sequenced resource with highly effective recipes for learning Avid Media Composer essentials and beyond. It's task-based approach will help users at all experience levels gain a deeper, more thorough understanding of the software.
It will help you master the essential, core editing features as well as reveal numerous tips and tricks that editors can benefit from immediately. Just some of the topics include understanding Import settings, mixing frame rates and understanding AMA (Avid Media Access), along with thorough explanations of Trim Mode, Segment Mode, and the Smart Tool. You will learn to customize your work environment with Workspaces, Bin Layouts, Timeline Views, Bin Views, Keyboard Mapping, and much more. The recipes inside are packed with practical examples, time-saving tools and methods to get you working faster and more confidently so that you can spend less time dealing with technical and operational issues and instead focusing on being creative.
What you will learn from this book
Hands-on recipes with cutting edge methods and techniques to effectively learn Avid Media Composer 6
Understand Import settings and how to mix frame rates
Extensive coverage of trimming
Detailed recipes on staying in sync with complicated sequences and multiple tracks
Master the essentials to develop your media management skills and projects at your own pace
Customize your work environment with Workspaces, Bin Layouts, Timeline views, Keyboard Mapping, and more
Get the most out of Replace Edit, Sync Point Edit, the Clipboard, and much more
Get to the grips with different methods of mixing audio
Learn how to use group clips and perform multi cam editing like never before
Approach
Written in a Cookbook style, it's packed with logically-sequenced recipes to gain deeper understanding of the software. Each recipe contains step-by-step instructions followed by analysis of what was done in each task and other useful information. The book is designed so that you can read it chapter by chapter, or you can look at the list of recipes and refer to them in no particular order.
Who this book is for
If you are new to editing with Avid, this book will help you get the most out of Avid Media Composer right from the start. Even if you are intermediately experienced with Avid, you will discover new methods and gain a deeper understanding to take your Avid experience to the next level, with greater confidence.
Book Details
Paperback: 422 pages
Publisher: Packt Publishing (December 2012)
Language: English
ISBN-10: 1849693005
ISBN-13: 978-1849693004
Download [18.3 MiB]