Augmented Reality with Kinect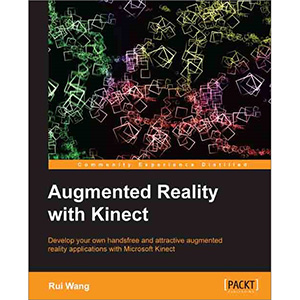 Microsoft Kinect changes the notion of user interface design. It differs from most other user input controllers as it enables users to interact with the program without touching the mouse or a trackpad. It utilizes motion sensing technology and all it needs is a real-time cameras, tracked skeletons, and gestures.
Augmented Reality with Kinect will help you get into the world of Microsoft Kinect programming with the C/C++ language. The book will cover the installation, image streaming, skeleton and face tracking, multi-touch cursors and gesture emulation. Finally, you will end up with a complete Kinect-based game.
Augmented Reality with Kinect will help you get into the world of Kinect programming, with a few interesting recipes and a relatively complete example. The book will introduce the following topics: the installation and initialization of Kinect applications; capturing color and depth images; obtaining skeleton and face tracking data; emulating multi-touch cursors and gestures; and developing a complete game using Kinect features.
The book is divided in such a way so as to ensure that each topic is given the right amount of focus. Beginners will start from the first chapter and build up to developing their own applications.
What you will learn from this book
Install a Kinect device and SDK packages on your computer
Initialize Kinect with C++ APIs in your own application
Obtain image streaming data from color and depth cameras
Acquire skeleton data and face tracking results for use
Use hand positions to emulate multi-touch cursors and gestures
Develop a Fruit Ninja game with different Kinect functionalities
Study with simple and interesting examples using a uniform OpenGL framework
Find more open source and commercial resource on the Web
Approach
This book is a mini tutorial with plenty of code examples and strategies to give you many options when building your own applications.
Who this book is written for
This book is meant for readers who are familiar with C/C++ programming and want to write simple programs with Kinect. The standard template library can also be used as it is simple enough to understand.
Book Details
Paperback: 122 pages
Publisher: Packt Publishing (July 2013)
Language: English
ISBN-10: 1849694389
ISBN-13: 978-1849694384
Download [14.1 MiB]