APM Best Practices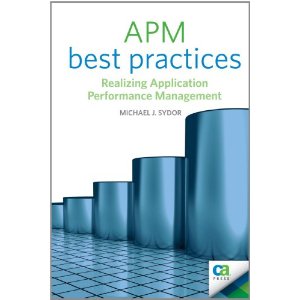 The objective of APM Best Practices: Realizing Application Performance Management is to establish reliable Application Performance Management practices—to demonstrate value, to do it quickly, and to adapt to the client circumstances.  Balancing  long-term goals with short-term deliverables, but without compromising usefulness or correctness.  The successful strategy is to establish a few reasonable goals, achieve them quickly, and then iterate over the same topics two more times, with each successive iteration expanding the skills and capabilities of the APM team.  This strategy is referred to as "Good, Better, Best".
The Application Performance Monitoring marketplace is very focused on ease of installation, rapid time to usefulness, and overall ease of use.   But these worthy platitudes do not really address the Application Performance Management processes that ensure that you will deploy effectively, synergize on QA test plans, triage accurately, and encourage collaboration across the application life cycle that ultimately lowers overall application cost and ensures a quality user experience.  These are also fine platitudes but these are the ones that are of interest to your application sponsors.  These are the ones for which you need to show value. This CA Press book employs this iterative approach, adapted pragmatically for the realities of your organizational and operational constraints, to realize a future state that your sponsors will find useful, predictable and manageable—and something that they will want to fund.  In the meantime, you will learn the useful techniques needed to set up and maintain a useful performance management system utilizing best practices regardless of the software provider(s).
What you'll learn
Understand the value proposition of APM and its impact on the IT organization.
Justify an APM investment tailored to the realities of your corporate culture.
Appreciate the organization forms that successful practitioners employ.
Manage the evaluation and selection of a monitoring solution.
Techniques to schedule and supervise the initial and successive deployments of APM technology with consistent, predictable, and reliable practices.
Develop a catalog of services to guide the evolution of the monitoring initiative, as investment or critical incidents present themselves.
Learn and master the basic and advanced techniques in employing APM technology to address application performance and overall software quality.
Who this book is for
Given the vendor-neutral theme of the book, anyone who is interested in performance management of distributed and mainframe solution architectures will have an interest in the book.  It should become the seminal reference for this segment of the IT industry.
IT professionals need this book because it will allow them to better understand the nature of the investment, the value proposition, and the impact that APM technology will have on their organization.  It will allow them to achieve proactive management of their applications and  infrastructure to help improve the quality, identify and document defects, and reduce overall management costs of the software that their organization tests and operates.
Table of Contents
Getting Started with APM
Business Justification
Assessments
Staffing and Responsibilities
APM Patterns
The Pilot Evaluation
Deployment Strategies
Essential Processes
Essential Service Capabilities
Solution Sizing
Load Generation
Baselines
The Application Audit
Triage with Single Metrics
Triage with Baselines
Triage with Trends
Firefighting and Critical Situations
Book Details
Paperback: 504 pages
Publisher: Apress (December 2010)
Language: English
ISBN-10: 9781430231417
ISBN-13: 978-1430231417
Download [23.3 MiB]