Android Tablets For Dummies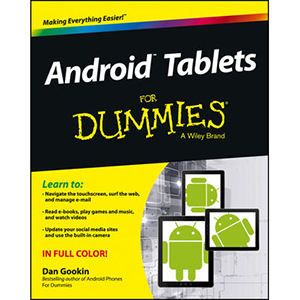 Get the most out of your Android tablet with this full-color reference
Whether you are one of the millions who already have an Android tablet, or you are interested in joining the masses with a first-time purchase, this friendly guide is perfect for you! Written by the ultimate For Dummies author Dan Gookin, this funny-but-informative book introduces you to the features of all Android tablets and details the nuances of what makes a tablet more than a smartphone yet different than a computer. You'll discover how to browse the web on your tablet, get organized with a digital calendar, enjoy music and books, use the camera, access social networks, watch video, and more.
Helps you choose the right apps for all your interests out of the thousands of apps that are available for the Android platform
Covers all Android tablets, from popular favorites like the Kindle Fire HD, NOOK HD, and Google Nexus to devices from other manufacturers like Samsung, Asus, Motorola, and others
Walks you through maintenance and common troubleshooting tips
Packed with invaluable information on everything from typing and editing text to customizing and personalizing your tablet, Android Tablets For Dummies gets you off the ground running with your Android tablet!
From the Back Cover
Learn to:
Navigate the touchscreen, surf the web, and manage e-mail
Read e-books, play games and music, and watch videos
Update your social media sites and use the built-in camera
IN FULL COLOR!
Welcome, Android! Here's Dan Gookin's guide to making the most of your terrific tablet
Remember all those science fiction movies about how one day, you'd have a robot to assist you? Well, it's not a robot — it's an Android. And with Dan Gookin's helpful advice, you can train it to do your bidding. Learn how to talk to it, use the navigation system, text, send e-mail, take photos, video chat, create and print documents, and much more.
A tasty tablet — find out whether yours is the Ice Cream Sandwich or Jelly Bean operating system and how to set it up
It's touching — use the touchscreen to tap apps, type text, browse the web, check your e-mail, and update your social media
Can we talk? — explore Google Talk, set up a Skype account, and video chat with friends anywhere
All the things it is — locate businesses, take photos and video, manage your pictures, play music, enjoy a game, and update your calendar
Hit the road — learn how to prepare your tablet for travel, protect it, and secure your data on the go
Open the book and find:
How and why to set up a Google account
Why your tablet needs a home
Tips for using the address book
Web browsing advice
How your tablet can tell you where you are
Wi-Fi and cellular pros and cons
Ways to keep your Android tablet happy
How to use your tablet for phone calls and video chats
Solutions to common problems
Ten fantastic free apps
Book Details
Paperback: 320 pages
Publisher: For Dummies (April 2013)
Language: English
ISBN-10: 111854319X
ISBN-13: 978-1118543191
Download [21.9 MiB]