Analyzing the Social Web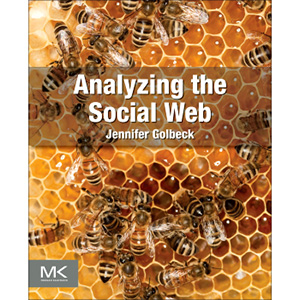 Analyzing the Social Web provides a framework for the analysis of public data currently available and being generated by social networks and social media, like Facebook, Twitter, and Foursquare. Access and analysis of this public data about people and their connections to one another allows for new applications of traditional social network analysis techniques that let us identify things like who are the most important or influential people in a network, how things will spread through the network, and the nature of peoples' relationships. Analyzing the Social Web introduces you to these techniques, shows you their application to many different types of social media, and discusses how social media can be used as a tool for interacting with the online public.
Presents interactive social applications on the web, and the types of analysis that are currently conducted in the study of social media.
Covers the basics of network structures for beginners, including measuring methods for describing nodes, edges, and parts of the network.
Discusses the major categories of social media applications or phenomena and shows how the techniques presented can be applied to analyze and understand the underlying data.
Provides an introduction to information visualization, particularly network visualization techniques, and methods for using them to identify interesting features in a network, generate hypotheses for analysis, and recognize patterns of behavior.
Includes a supporting website with lecture slides, exercises, and downloadable social network data sets that can be used can be used to apply the techniques presented in the book.
Table of Contents
Chapter 1. Introduction
Chapter 2. Nodes, Edges, and Network Measures
Chapter 3. Network Structure and Measures
Chapter 4. Network Visualization
Chapter 5. Tie Strength
Chapter 6. Trust
Chapter 7. Understanding Structure Through User Attributes and Behavior
Chapter 9. Entity Resolution and Link Prediction
Chapter 10. Propagation in Networks
Chapter 11. Community-Maintained Resources
Chapter 12. Location-Based Social Interaction
Chapter 13. Social Information Filtering
Chapter 14. Social Media in the Public Sector
Chapter 15. Business Use of Social Media
Chapter 16. Privacy
Chapter 17. Case Study: Social Network Strategies for Surviving the Zombie Apocalypse
Book Details
Paperback: 290 pages
Publisher: Morgan Kaufmann (March 2013)
Language: English
ISBN-10: 0124055311
ISBN-13: 978-0124055315
Download [13.8 MiB]