Amazing Android Apps For Dummies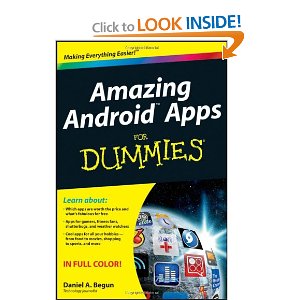 Find the Android apps that are right for you so you can have fun and get more done!
The popularity of Android apps is exploding and this handy guide helps you sort through the thousands of available applications so you can find the ones that are ideal for you. You'll explore a variety of apps in the areas of entertainment, finance, health, food, music, news, weather, photography, reference, dining out, social networking, sports, travel, and more. Author Daniel Begun helps you navigate through this enormous—and potentially overwhelming—array of Android apps.
Holds your hand through the oftentimes overwhelming app selection and shares helpful advice for sorting through the tens of thousands of apps to find the ones that are right for you
Helps you uncover which apps are worth the price and what's fabulous for free
Provides advice on what apps work best for all your favorite hobbies – from movies to music, sports to social networking, fitness to fun games, and everything in between
Amazing Android Apps For Dummies walks you through the process of finding, purchasing, and installing the most appealing apps for your needs.
From the Back Cover
How do you find the Android apps you can't live without? Easy — just open this book!
There are SO many apps — who has time to explore them all? Daniel A. Begun already did, and the best in 18 categories are reviewed here in plain English. What's your passion? Sports? Movies? Shopping? Photography? Finance? Geeky stuff? Get the scoop on 180 must-have apps, learn what they cost, and find expert advice to help you sort the best from the rest in the world of Android apps.
First things first — peek into the Android Market and other app stores and learn where Android apps excel — and where they don't
For bibliophiles — find apps for reading or listening to books and viewing comics
Fun and games — entertain preschoolers, help kids build skills, challenge adult brains, and add some fun to your day with cool game apps
Shining stars — discover the best apps to follow your favorite band, keep track of upcoming movies, buy tickets, and even watch TV shows
Mind your business — with apps that track profits, study investments, and manage your money on the go
Open the book and find:
How to stay productive with apps that block junk calls and texts
Fun fitness apps to track your workouts and map your runs
Wild weather apps for tracking earthquakes and hurricanes
A blast from the past or the next big hit with apps for music fans of any age
The best apps to add effects to your photos and videos
Apps to help your golf game or your favorite fantasy leagues
How to shop smarter with price comparison and product review apps
Learn to:
Which apps are worth the price and what's fabulous for free
Apps for gamers, fitness fans, shutterbugs, and weather watchers
Cool apps for all your hobbies —from food to movies, shopping to sports, and more
Book Details
Paperback: 256 pages
Publisher: For Dummies (March, 2011)
Language: English
ISBN-10: 9780470936290
ISBN-13: 978-0470936290
Download [70.0 MiB]