Agile Project Management with GreenHopper 6 Blueprints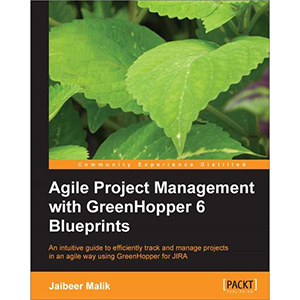 Agile methodologies like Scrum focus on customer values in an incremental way. Regular planning, tracking, reporting, and improving can become equally challenging from a project management perspective. GreenHopper is a tooling support for JIRA that offers easy adoption of agile practices through rich interfaces for effective team collaboration and project management.
Agile Project Management with GreenHopper 6 Blueprints is a step-by-step guide that teaches you how to manage agile projects using the GreenHopper tooling system. With easy adoption using pre-sets for Scrum & Kanban, the rich interface focuses on the work at hand, increasing team productivity. Executing sprints, tracking sprints, and reporting on agile projects has never been so easy. The integration with different development environments helps teams to focus on collaboration, communication, and continuous improvement. This book covers agile project management concepts using GreenHopper.
You will learn about backlog management for your agile team, how to create projects and boards for your agile team, and how to create new backlog items, prioritize items, estimate backlog items, create sprints, and update technical task status and report on the same.
You will learn everything you need to know about managing an agile project using GreenHopper and how to achieve the best value for your team.
What you will learn from this book
Install GreenHopper and create projects and boards for your team
Use GreenHopper's rich interface features
Learn about agile concepts and which GreenHopper tools are best suited for each
Master backlog creation, prioritization, and estimation of items
Understand sprint creation, how to execute sprints, time tracking, and how to manage sprint backlogs
Use task boards effectively and create custom workflow status' and column and update task status'
Use JIRA filters effectively, including Quick Filters, Swimlanes, and card colours
Analyze burndown charts effectively for sprint tracking
Complete a sprint, manage unfinished backlog items, and generate sprint reports
Use velocity charts, epic reports, control charts, and cumulative flow diagrams
Manage Kanban teams using GreenHopper, create Kanban boards, control work in progress, and find bottlenecks in your system and report them to your Kanban team
Understand GreenHopper integration points that support your agile team
Approach
A step-by-step tutorial-based approach.
Who this book is written for
This book is of great help for agile teams who are already using or planning to use the GreenHopper tooling system to execute agile projects. It suits all roles in an agile project including system administrators, stakeholders, product owners, scrum masters, and team members. Fundamental knowledge of JIRA is essential.
Book Details
Paperback: 140 pages
Publisher: Packt Publishing (August 2013)
Language: English
ISBN-10: 1849699739
ISBN-13: 978-1849699730
Download [7.7 MiB]