Advanced Web Metrics with Google Analytics, 2nd Edition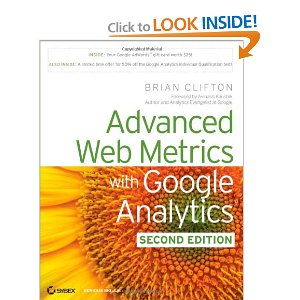 Packed with insider tips and tricks, this how-to guide is fully revised to cover the latest version of Google Analytics and shows you how to implement proven Web analytics methods and concepts.This second edition of the bestselling Advanced Web Metrics with Google Analytics is the perfect book for marketers, vendors, consultants, and Webmasters who want to learn the installation, configuration, tracking techniques, and best practices of Google Analytics.
Google Analytics is a free tool that measures Web site effectiveness and helps users better understand how web site performance; this book is a detailed usage guide written by one of the software's original creators
Explains what filters keep data accurate, how to measure Flash usage and tag for e-mail marketing, and what visitor segmentation provides the most useful feedback
Examines principles and practices of Web analytics, then shows how to use GA's reports and how to track dynamic Web pages, banners, outgoing links, and contact forms
Discusses advanced setups for configuring goals and filters, how to integrate GA with third-party systems, and how to leverage the new API
Advanced Web Metrics with Google Analytics, Second Edition is valuable for both novice and experienced users of Google Analytics.
From the Back Cover
Become a Google Analytics Expert: The Practitioner's Complete Guide
Want to implement and apply advanced web analytics techniques—without having to be an expert? Google insider and web metrics expert Brian Clifton helps you harness the full power of Google Analytics (GA) with this new edition of his bestselling book. This book shows you analytics that are advanced enough to give you all the crucial decision-making insights, yet simple enough to digest and quickly implement in a clever way.
Whether you're a novice or veteran, you'll soon be applying the very latest GA techniques, best practices, and some great hacks. From tracking social media to configuring data filters to interpreting results, start here and quickly improve your skills, your website, your brand, and your profits.
Configure a best-practice implementation for a solid web metrics platform
Understand features and reports in detail
Optimize the performance of your website by learning from real-world examples
Integrate AdWords, AdSense, and your internal site search tracking tool
Use Google Analytics in conjunction with A/B and multivariate testing
Optimize your online and offline marketing campaigns
Integrate Google Analytics data with third-party systems and applications, including your CRM system
Leverage the new Google Analytics API
This book is a comprehensive roadmap to helping you get the most from your metrics. It's an indispensable guide to helping you take your online marketing campaigns to the next level."—Chris Sherman, Executive Editor, Search Engine Land
If you're looking for a practical, tactical guide in how to implement and think about web marketing optimization, look no further. Brian Clifton spells it out by industry, by job function, by Key Performance Indicator, and more."—Jim Sterne, Founding Director and Chairman of the Web Analytics Association
The must-read for anyone looking to get the most value out of Google Analytics and web analytics."—Ashley Friedlein, CEO, Econsultancy
Guarantee your future employment—buy, read, and implement all of the techniques of this outstanding book."—Bill Hunt, coauthor, Search Engine Marketing Inc.
Special offers from Google Inside, get a Google AdWords gift card worth $25 and find details on how you can save 50% on the Google Analytics Individual Qualification test!
Book Details
Paperback: 528 pages
Publisher: Sybex; 2nd Edition (March 2010)
Language: English
ISBN-10: 0470562315
ISBN-13: 978-0470562314
Download [9.2 MiB]