Adobe Flex 4.5 Fundamentals: Training from the Source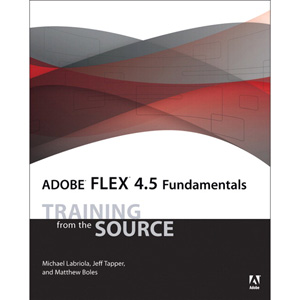 Adobe Flex: Training from the Source is the best-selling and most trusted resource for learning about Adobe Flex. Written by a team of authors with practical experience as consultants, mentors and developers of courseware, this book/CD uses project-based tutorials, and is designed to teach beginning Flex developers the details of building and architecting real-world rich internet applications using Flash Builder incorporating MXML and ActionScript 3.0. The book includes a CD that contains all the files used in the lessons, plus completed projects for comparison. This latest edition includes complete coverage of new Flex 4.5 features, such as new enhancements to the Spark architecture and component set. It will also show you how to take advantage of the improvements to core Flex infrastructure for large application development.
About the Author
Michael Labriola is a founding partner and senior consultant at Digital Primates. He has been developing Internet applications since 1995 and has been working with Flex since its 1.0 beta program. Michael is an Adobe Certified Instructor, Community Professional, Flex Developer Champion, and international speaker on Flex and AIR topics who has consulted for many of the world's most recognized brands. At Digital Primates, Michael mentors client development teams using emerging technologies. At home, he spends his free time escaping from technology through wine and food.
Jeff Tapper is a founding partner and senior consultant at Digital Primates. He has been developing Internet-based applications since 1995 for a myriad of clients, including Major League Baseball, ESPN, Morgan Stanley, Conde Nast, IBM, Dow Jones, American Express, Verizon, and many others. He has been developing Flex applications since the earliest days of Flex 1. As an instructor, Jeff is certified to teach all of Adobe's courses on Flex, AIR, Flash, and ColdFusion development. He is also a frequent speaker at Adobe Development Conferences and user groups. Digital Primates provides expert guidance on rich Internet application development and empowers clients through mentoring.
Matthew Boles is a Technical Training Specialist for the Adobe Technical Marketing group, and has been developing and teaching courses on Flex since the 1.0 release. Matthew has a diverse background in web development, computer networking, and teaching. He is also a contributing author of the Adobe authorized Flex courseware.
Book Details
Paperback: 496 pages
Publisher: Adobe Press (July 2011)
Language: English
ISBN-10: 0321777123
ISBN-13: 978-0321777126
Download [12.1 MiB]