Active Directory, 5th Edition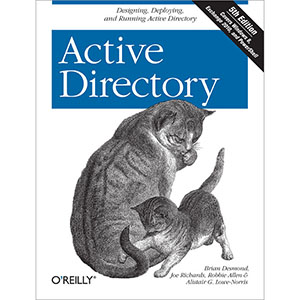 Organize your network resources by learning how to design, manage, and maintain Active Directory. Updated to cover Windows Server 2012, the fifth edition of this bestselling guide gives you a thorough grounding of Microsoft's network directory service by explaining concepts in an easy-to-understand, narrative style.
You'll negotiate a maze of technologies for deploying a scalable and reliable AD infrastructure, with new chapters on management tools, searching the AD database, authentication and security protocols, and Active Directory Federation Services (ADFS). This book provides real-world scenarios let you apply what you've learned–ideal whether you're a network administrator for a small business or a multinational enterprise.
Upgrade Active Directory to Windows Server 2012
Learn the fundamentals, such as how AD stores objects
Use the AD Administrative Center and other management tools
Learn to administer AD with Windows PowerShell
Search and gather AD data, using the LDAP query syntax
Understand how Group Policy functions
Tackle designing a new Active Directory forest
Examine the Kerberos security protocol
Learn AD Federation Services
Get a detailed look at the AD replication process
Explore AD Lightweight Directory Services
Ideal for administrators, IT professionals, project managers, and programmers alike, Active Directory is not only for people getting started with AD, it's also for experienced users who need to stay up-to-date with the latest AD features in Windows Server 2012. It is no wonder this guide is the bestselling AD resource available.
Table of Contents
Chapter 1. A Brief Introduction
Chapter 2. Active Directory Fundamentals
Chapter 3. Active Directory Management Tools
Chapter 4. Naming Contexts and Application Partitions
Chapter 5. Active Directory Schema
Chapter 6. Site Topology and Active Directory Replication
Chapter 7. Searching Active Directory
Chapter 8. Active Directory and DNS
Chapter 9. Domain Controllers
Chapter 10. Authentication and Security Protocols
Chapter 11. Group Policy Primer
Chapter 12. Fine-Grained Password Policies
Chapter 13. Designing the Active Directory Structure
Chapter 14. Creating a Site Topology
Chapter 15. Planning for Group Policy
Chapter 16. Active Directory Security: Permissions and Auditing
Chapter 17. Designing and Implementing Schema Extensions
Chapter 18. Backup, Recovery, and Maintenance
Chapter 19. Upgrading Active Directory
Chapter 20. Active Directory Lightweight Directory Services
Chapter 21. Active Directory Federation Services
Book Details
Paperback: 738 pages
Publisher: O'Reilly Media; 5th Edition (April 2013)
Language: English
ISBN-10: 1449320023
ISBN-13: 978-1449320027
Download [39.4 MiB]