A Practical Guide to Managing Web Projects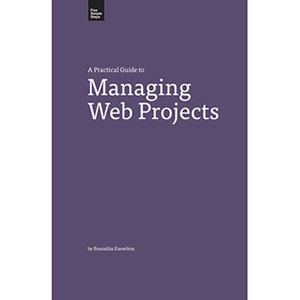 People who make websites sometimes say that their clients are unreasonable. People who pay for websites sometimes say that the professionals they hire don't understand business and can't stick to deadlines. A project manager is right in the middle – and a shrewd project manager can clear up misconceptions in both directions while inspiring everyone involved to work together creatively.
Veteran project manager Breandán Knowlton has been working on the web since its beginning, and has seen spectacular successes and disastrous failures along the way. In Managing Web Projects he provides advice, checklists and guidelines for each phase of your work on a typical web project, whether or not you have a formal background in project management. From initial inception through to final evaluation, this book is filled with practical ideas to help you make your next web project a positive experience for everyone.
Who should read this book?
Those who share responsibility for projects aren't always called project managers. If you're a web professional, agency principal, or represent an organisation commissioning a website, this book will give you the detail you need to keep things on track in your area, anticipate risks and create smooth relationships among stakeholders.
Topics include:
Part 1: Beginning a Project
So you're going to do a web project? It's time to consider your goals, your project management process and to sketch out the trajectory of the project's phases. In this section, I'll examine established project management methodologies, the best ways of running meetings and the tricks to selling web work and presenting bids. Creating strong briefs and proposals, and estimating the scale of a potential project are also here. Once the bid is won and your team is geared up, this section will also give you tips for planning an effective kick-off, workshops and project communications.
Part 2: Analysing Requirements
At this stage, you've got the green light and are ready to go forward with the project! User and market research, content governance and usability testing all lie ahead of you and your team. In this section, I'll talk about conducting interviews, creating personas, presenting research, doing content inventories and designing for usability. Planning the integration process and estimating key values in your project are also critical skills in this phase of project management.
Part 3: Design and Prototyping
The wireframing phase brings up lots of questions of fidelity, organisation, and presentation. In this section, I review taxonomies, paper prototyping, layouts and design constraints. I'll also discuss a few of the many facets of visual language and graphic design, as they relate to your project management process, including the difficult comps question, user journey sketches and choosing the right tools. With plenty of sketches and annotations to represent your team's work, you'll be able to move through the visual design phase with confidence.
Part 4: Construction and Testing
Content management systems and integration present project managers with an array of complicated decisions. In this section, I discuss your CMS options and explore the maze of integrating with enterprise databases and customer relationship systems. As you move through the build and deployment phases, I'll help you focus on change and risk management. I'll also discuss some of the testing and Agile development techniques that will help your team through the project.
Part 5: Deployment and Evaluation
With the project nearing completion, you can see the light at the end of the tunnel. But there are a few more things to address before the site goes live. In this section, I discuss checklists, disaster planning, social marketing strategy, handover, goals, metrics, analytics, and converting your finished projects into sparkling case studies. I will also review a few tools and techniques for planning for the future after wrap-up is completed, including support contracts and team development.
Book Details
Paperback: 337 pages
Publisher: Five Simple Steps LLP (November 2012)
Language: English
ISBN-10: n/a
ISBN-13: 978-1907828072
Download [16.8 MiB]