WordPress Web Design For Dummies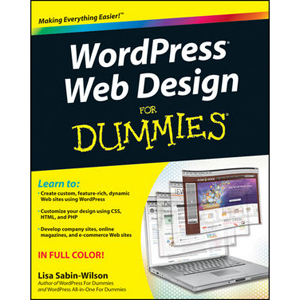 Learn how WordPress can help you create a unique, customized Web site
Once only a platform for bloggers, WordPress is gaining popularity as a tool for creating individualized Web sites. WordPress expert Lisa Sabin-Wilson makes it easy for anyone with a basic knowledge of the WordPress software to create a custom site using complimentary technologies including CSS, HTML, and PHP. This easy-to-follow, full-color guide helps you identify the tools and technologies you need to create the site you envision, build a user-friendly navigation system, select colors and layouts, work with existing WordPress themes, and even develop your own theme to personalize your site.
WordPress offers a versatile tool for building customized Web sites; this full-color book walks you through the process, explains the complimentary technologies involved, and shows you how to select colors, fonts, and themes
Case studies illustrate the process and the effects that can be achieved
Shows how to incorporate WordPress templates, graphic design principles, HTML, CSS, and PHP to build a truly one-of-a-kind Web site
If you know how to use WordPress software to create a blog, WordPress Web Design For Dummies will enable you to quickly and easily construct a unique Web site for your business, organization, or personal use.

From the Back Cover
Express yourself with WordPress! Create a custom site with e-commerce, social media, and more
WordPress has grown up! No longer just a blogging tool, it has secret powers that enable you to include features like photo and video galleries, portfolios, directories and contact forms, client testimonials, integration with Facebook and Twitter, and a whole lot more in your Web site. The secret is out — read on and learn what you can do!
A solid foundation — understand what a content management system is, how a blog differs from a Web site, and what you need from a Web host
The right tool for the job — learn about FTP, types of editors, graphics programs, fonts and colors, and image libraries
Choose your theme — discover the anatomy of a WordPress theme and how to use template tags to display different content
It's all yours — create a unique, customized site using Cascading Style Sheets (CSS) and HTML
Pick plugins — use plugins to add galleries, social communities, and forums to your site
Open the book and find:
Why WordPress is perfect for e-commerce sites
Steps for installing WordPress on your Web server
How plain text editors differ from WYSIWYG editors
Hints for creating dynamite design
What you can do with widgets
Examples of content types and formats
Tips for using WordPress as a content management system
How template tags work
Learn to:
Create custom, feature-rich, dynamic Web sites using WordPress
Customize your design using CSS, HTML, and PHP
Develop company sites, online magazines, and e-commerce Web sites
Book Details
Paperback: 400 pages
Publisher: For Dummies (June 2011)
Language: English
ISBN-10: 0470935030
ISBN-13: 978-0470935033
Download [25.2 MiB]