Windows Phone 7 Made Simple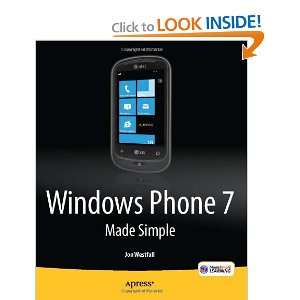 With Windows Phone 7, Microsoft has created a completely new smartphone operating system that focuses on allowing users to be productive with their smartphone in new ways, while offering seamless integration and use of Microsoft Office Mobile as well as other productivity apps available in the Microsoft App Store.
Windows Phone 7 Made Simple offers a clear, visual, step-by-step approach to using your Windows Phone 7 smartphone, no matter what the manufacturer. Author Jon Westfall is an expert in mobile devices, recognized by Microsoft as a Most Valuable Professional (MVP) with experience teaching both businesses and consumers. This book will get you started with the basics and then teach you tricks and shortcuts that will save you time and help you maximize your productivity.
What you'll learn
How to Set up your  Windows Phone 7 smartphone
Understand the features that set Windows Phone 7 apart from others, such as Live Tiles
Explore and download apps from the Windows Phone 7 App Store
Navigate and use Windows Office Mobile on your Windows Phone 7
Migrate files to/from your smartphone and your desktop
Connect your Windows Phone 7 to your desktop using Microsoft's Zune software.
Who this book is for
This book is for new users of the Windows Phone 7 smartphone, as well as to those upgrading from other smartphones.
Table of Contents
Setting up Your Windows Phone
Making Phone Calls
Setting up Accounts
Using Email
Setting up and Using Facebook and Twitter
Customizing Your Phone
Setting up Bluetooth and Wi-Fi
Managing and Securing Your Phone
Searching Your Phone and Using Speech
Connecting With People: Using the People Live Tile
Setting Alarms and Reminders
Using and Customizing the Calendar
Using Text Messaging
Surfing the Web With Internet Explorer
Taking Pictures and Putting Them Online
Using Windows Live Services
Using Microsoft OneNote Mobile
Using Microsoft Office Word Mobile
Using Microsoft Office Excel Mobile
Using Microsoft PowerPoint Mobile
Connecting to SharePoint
Using Maps
Connecting to the Zune Software
Using Your Phone With Xbox LIVE
Exploring the Marketplace
Updating Your Phone
Resources to Explore
Book Details
Paperback: 472 pages
Publisher: Apress (February, 2011)
Language: English
ISBN-10: 1430233125
ISBN-13: 978-1430233121
Download [27.0 MiB]