Windows Phone 7.5 Application Development with F#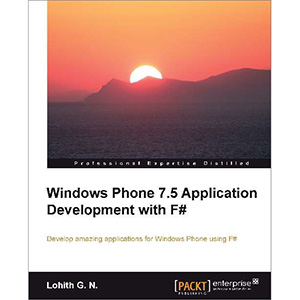 Windows Phone is an OS which is also a platform in itself and provides an opportunity for application developers to build their apps and sell them on the Windows Phone Marketplace. Windows Phone is slowly catching up in the race with iOS and Android. Although well suited for scientific and mathematical calculations, the Windows Phone Platform provides an opportunity to program in F#.
"Windows Phone 7.5 Application Development with F#"  focuses on making the user aware of Windows Phone App Development with the F# programming language in as short a time as possible. The book teaches you about the development environment, helps you understand the project structure, understand the controls, and ends with some of the cool features of the platform like sensors, launchers, and choosers.
The book starts off with enabling the user with the right tools required to start developing. It focuses on getting the IDE ready, and project and item templates. By the end of the book the user will be familiarized with the different aspects of the platform itself. The transition from one chapter to another is short and focused so that you can get to the meat of the topic quickly.
What you will learn from this book
Windows Phone application development with function language F#
Work with Windows Phone controls
Understand screen orientations in Windows Phone
Discover page navigation in Windows Phone
Get to grips with gesture events in Windows Phone
Explore data access and storage in Windows Phone
Become familiar with handlers and choosers in Windows Phone
Learn more about sensors in Windows Phone
Approach
A short book with important concepts and instructions.
Who this book is for
This book is for those who want to find out more about Windows Phone and are familiar with functional programming languages, and in particular, F#. The book assumes that you know how to program using F# as a language. However, the book does take you through a brief introduction to Windows Phone as a platform and F# as a language.
Book Details
Paperback: 138 pages
Publisher: Packt Publishing (April 2013)
Language: English
ISBN-10: 1849687846
ISBN-13: 978-1849687843
Download [9.1 MiB]