Windows 8 Tweaks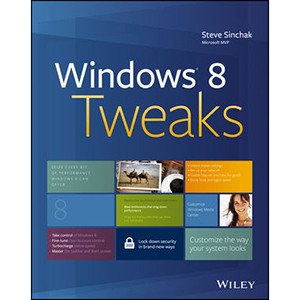 Acres of Windows 8 tweaks from a Microsoft MVP and creator of Tweaks.com!
From a Microsoft MVP, who is also the savvy creator of Tweaks.com, comes this ultimate collection of Windows 8 workarounds. Steve Sinchak takes you way beyond default system settings, deep under the hood of Windows 8, down to the hidden gems that let you customize your Windows 8 system like you wouldn't believe. From helping you customize the appearance to setting up home networking, sharing media, and squeezing every ounce of performance out of the OS, this book delivers. Get ready to rock and roll with Windows 8!
Uncovers hidden gems to help you get the most out of Windows 8
Bypasses the default system settings to show you how to customize the login and start screens, unlock hidden settings, supercharge your network speed, get rid of features you hate, and more
Provides over 400 pages of workarounds and tweaks, including many high-level ones for you hotshot techies who really love to reshape an OS and make it your own
Offers expert guidance and insight from author Steve Sinchak, a Microsoft MVP and creator of Tweaks.com
Start tweaking and make Windows 8 your own with Windows 8 Tweaks.
Table of Contents
Part I: Getting Started with Windows 8
Chapter 1. Selecting the Right Edition
Chapter 2. Installing Windows 8
Chapter 3. Windows 8 Basics
Chapter 4. Safe Tweaking
Part II: Customizing Windows 8
Chapter 5. Customizing the Startup
Chapter 6. Customizing User Navigation
Chapter 7. Personalizing the Desktop
Chapter 8. Customizing the Appearance of the Windows Interface
Chapter 9. Fine-Tuning File Explorer
Chapter 10. Personalizing Internet Explorer
Chapter 11. Customizing Windows Media
Part III: Increasing Your System's Performance
Chapter 12. Analyzing Your System
Chapter 13. Speeding Up the System Boot
Chapter 14. Speeding Up the Log-On Process
Chapter 15. Speeding Up Windows Explorer
Chapter 16. Optimizing Core Windows Components
Chapter 17. Optimizing Your Network
Part IV: Securing Windows
Chapter 18. Windows Security
Chapter 19. Internet Security
Chapter 20. Protecting Your Privacy
Book Details
Paperback: 408 pages
Publisher: Wiley (June 2013)
Language: English
ISBN-10: 1118172779
ISBN-13: 978-1118172773
Download [51.0 MiB]