Vintage Tomorrows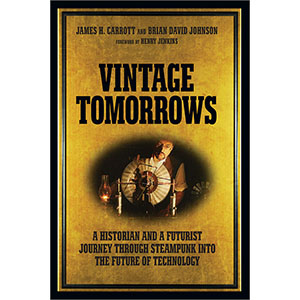 What would today's technology look like with Victorian-era design and materials? That's the world steampunk envisions: a mad-inventor collection of 21st century-inspired contraptions powered by steam and driven by gears. In this book, futurist Brian David Johnson and cultural historian James Carrott explore steampunk, a cultural movement that's captivated thousands of artists, designers, makers, hackers, and writers throughout the world.
Just like today, the late 19th century was an age of rapid technological change, and writers such as Jules Verne and H.G. Wells commented on their time with fantastic stories that jumpstarted science fiction. Through interviews with experts such as William Gibson, Cory Doctorow, Bruce Sterling, James Gleick, and Margaret Atwood, this book looks into steampunk's vision of old-world craftsmen making beautiful hand-tooled gadgets, and what it says about our age of disposable technology.
Steampunk is everywhere—as gadget prototypes at Maker Faire, novels and comic books, paintings and photography, sculptures, fashion design, and music. Discover how this elaborate view of a history that never existed can help us reimagine our future.
Table of Contents
Chapter 1. A Futurist and a Cultural Historian Walk into a Bar
Chapter 2. Beats, Pranksters, Hippies, Steampunks!
Chapter 3. Technology That Ships Broken
Chapter 4. A World-Destroying Death Ray Should Look Like a World-Destroying Death Ray
Chapter 5. Steampunk: A Dinner in Three Courses
Chapter 6. It's About Chickens and Teapots
Chapter 7. Digging Into the Past
Chapter 8. History Has Sharp Edges
Chapter 9. Punking Time in Key West
Chapter 10. The Answer's in Our Own Backyard
Chapter 11. Makers and Burners
Chapter 12. Pop Goes Steampunk
Chapter 13. Humor Is the New Killer App
Chapter 14. Don't Forget the Humans
Chapter 15. When Is an iPhone Like a Pocket Watch?
Chapter 16. We Must Design a Better Future
Chapter 17. Humanity in the Machine
Chapter 18. We Want to Remember a Time When Our Lives Were Not Made of Plastic
Chapter 19. What's Next?
Book Details
Paperback: 420 pages
Publisher: O'Reilly Media / Make (February 2013)
Language: English
ISBN-10: 1449337996
ISBN-13: 978-1449337995
Download [173.2 MiB]