The User Experience Team of One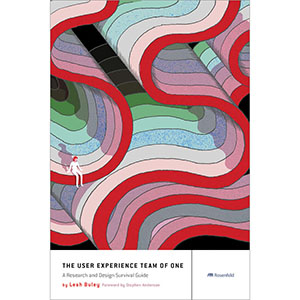 "The exigencies of modern product and Web development mean that projects are often understaffed. When the understaffed designer is you, your success depends on knowing where to cut corners and where to apply a full-court press. This clearly written book shows you what works and what wastes time. It will help you become that well-tempered UX team of one who can be great while doing the impossible."
—Alan Cooper, founder of design firm Cooper and author of The Inmates are Running the Asylum
The User Experience Team of One prescribes a range of approaches that have big impact and take less time and fewer resources than the standard lineup of UX deliverables. Whether you want to cross over into user experience or you're a seasoned practitioner trying to drag your organization forward, this book gives you tools and insight for doing more with less.
Table of Contents
Part I: Philosophy
Chapter 1. UX 101
Chapter 2. Getting Started
Chapter 3. Building Support for Your Work
Chapter 4. Growing Yourself and Your Career
Part II: Practice
Chapter 5. Planning and Discovery Methods
Chapter 6. Research Methods
Chapter 7. Design Methods
Chapter 8. Testing and Validation Methods
Chapter 9. Evangelism Methods
Chapter 10. What's Next?
Book Details
Paperback: 264 pages
Publisher: Rosenfeld Media (July 2013)
Language: English
ISBN-10: 1933820187
ISBN-13: 978-1933820187
Download [28.8 MiB]