The Option Trader's Workbook, 2nd Edition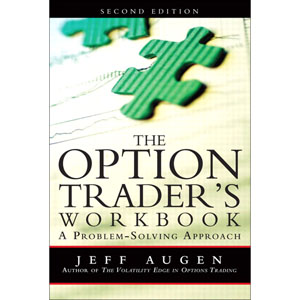 Successful options trading requires extensive practice. Most options books offer theory and strategies, but don't offer the practice needed to prepare for real-world trades, where the wrong split-second decisions can cost you dearly. Expert trader Jeff Augen covers every key scenario you'll encounter in modern options trading, guides you through successful trade executions, and shows how to overcome key pitfalls that trip up most traders. You'll walk through trades designed to profit from changing prices and volatility, time decay, rapid price spikes, and many other factors.
This second edition introduces powerful new techniques, and reflects the long-term impacts of the 2009 crash. New problems include:
New CBOE Weekly Options Expiration options, and their unique pricing dynamics.
Using collars, covered calls, and covered puts to structure income-generating trades with well-defined risk profiles.
Using ratio trading, VIX options, volatility ETFs, and variance trading to generate profits from shifts in volatility.
Each section contains beginner, intermediate, and advanced sections, helping you build your skills one trade at a time, no matter how much experience you have–or how little. You'll find several hundred questions, all designed to mirror real life, and supported with clearly explained solutions.
From the Back Cover
"The one thing readers should understand is that Jeff Augen is truly dedicated to educating traders at all levels. Instead of handing out answers, Jeff wants to make sure they understand the concepts he is teaching. He recognizes the value of being able to apply basic knowledge to new situations. Adapting and building on techniques and strategies has made Jeff Augen successful."
–Michelle Gebhardt, Executive Editor, Stocks, Futures, and Options magazine
There's only one way to become a great option trader: practice. This up-to-the-minute workbook gives you all the hands-on practice you need to become a consistently profitable option trader…without risking a dime! Jeff Augen walks you through every type of trade, showing you exactly how to execute maximum-profit strategies and avoid disastrous trading pitfalls. You'll start with the basics and then build your skills to master today's most powerful new strategies. Use this book to perfect your option trading instincts–so when real money's on the line, you'll win!
Just some of what's new in this edition:
Using precisely tuned ratio trades to profit in virtually any environment
Structuring income-generating trades with well-defined risk profiles
Capitalizing on trades containing both stocks and options
Mastering the unique dynamics of CBOE weekly options expiration trades
Using VIX options to take advantage of unusual volatility arbitrage situations
Book Details
Paperback: 304 pages
Publisher: FT Press; 2nd Edition (October 2011)
Language: English
ISBN-10: 0132101351
ISBN-13: 978-0132101356
Download [10.0 MiB]