The Lean Sustainable Supply Chain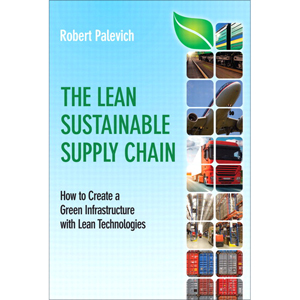 Lean, green supply chain management combines the efficiency that lean technologies deliver with the environmental and cost benefits of sustainability. The Lean Sustainable Supply Chain illuminates the business benefits of combining "lean" and "green," and offers start-to-finish guidance for redesigning company infrastructure and technologies to achieve these benefits. Palevich introduces the essential concepts of lean green supply chain management, illuminating them with a comprehensive case study showing how to manage change, innovation, talent, execution, inventory, warehousing, and transportation. He demonstrates how to integrate supply chain sustainability into business scorecards; make more effective use of third-party providers (3PLs); drive more value from information; build a state-of-the-art forecasting system and share it with suppliers; and much more. He then systematically addresses the full spectrum of technical issues, including forecasting methodologies, the nitty-gritty of supplier integration; business intelligence in event-driven supply chains; carbon tracking; quantifying lean savings; and much more. This book will be an invaluable resource for every business and technical manager, decision-maker, technical specialist, and consultant concerned with lean and green supply chains.
From the Back Cover
"Strong passion in sustainability and relentless pursuit in lean technologies describe Professor Palevich…. One cannot find a better author for this subject."
–Dr. Otto Chang, Dean of the Richard T. Doermer School of Business, Indiana University-Purdue University Fort Wayne
"Rob did a great job at Do it Best. One of his many accomplishments was designing and developing the first computerized forecast and inventory control system in our industry."
–Don Wolf, President Emeritus, Do it Best Corp.
"It's great to see Rob sharing his expertise with others. Rob was truly one of the key players year in and year out by helping Do it Best achieve a cost of operation that was consistently 34% lower than our closest competition. His inventory control programs allowed us to achieve 97% fill rates on over 65,000 SKUs and become the industry leader in turns. A true leader and innovator in his field."
–Mike McClelland, President/CEO Emeritus, Do it Best Corp.
"Professor Palevich has spent a long and illustrious career devoted to the study of lean supply chain management. The skills that he has passed on to students over the years have undoubtedly created a stronger university and truly a world-class business curriculum. It has been my pleasure to have such an influential mentor help shape and guide my career."
–Anthony McDonald, Inventory Analyst, Auburn Gear Inc.
"[Professor Palevich's] classes literally changed my way of thinking, and I saw the true importance of technology–not only in everyday life but how it is the driving factor in business for streamlining processes while cutting costs. In addition, it was the reason I've chosen to go into the telecommunications industry and make a career out of it, and for that I can never thank [him] enough!"
–Chelsea Smith
"Whether you are a supply chain manager, executive, decision-maker, technical specialist, or lean consultant, Robert Palevich's book has something for everyone. Mr. Palevich's passion for innovation, lean management, and designing a sustainable environment comes through in every chapter of this book! The case studies provide real-life examples that can be taken back to your business, with concrete ideas that can be implemented immediately. This is sure to be a great read for anyone hoping to increase value in their organizations."
–Melissa McKown, Manager, Continuous Performance Improvement, Parkview Health
The Lean Sustainable Supply Chain presents a complete framework for building a world-class supply chain that is both lean and green.
Robert Palevich shows organizations how they can increasingly leverage complex, content-rich information environments to drive breakthrough cost reduction and environmental benefit.
Palevich introduces ideas, strategies, and technologies drawn from more than 30 years running supply chains at Do it Best Corp. and collaborating with leaders such as GE, 3M, Sherwin Williams, and Black & Decker. He presents best-practice implementation techniques and matches them with detailed guidance for scorecarding improvements in productivity, cost, and environmental impact. Chapters conclude by summarizing realistically achievable savings and their bottom line impact.
Whatever your supply chain responsibilities, this book will help you drive the next generation of performance improvement–building supply chains that are more responsible and more profitable.
Achieve and measure sizable improvements in
Personnel costs and productivity
Paperwork and supply cost reduction
Building space and utility utilization
Transportation costs
Customer service levels
Margins
Inventory levels and turns
IT resource utilization
Company morale
Carbon footprint and more
Book Details
Hardcover: 448 pages
Publisher: FT Press (January 2012)
Language: English
ISBN-10: 0132837617
ISBN-13: 978-0132837613
Download [16.9 MiB]