The Go Programming Language Phrasebook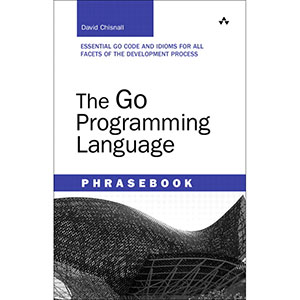 The Go Programming Language Phrasebook
Essential Go code and idioms for all facets of the development process 
This guide gives you the code "phrases" you need to quickly and effectively complete a wide variety of projects with Go, today's most exciting new programming language.
Tested, easy-to-adapt code examples illuminate every step of Go development, helping you write highly scalable, concurrent software. You'll master Go-specific idioms for working with strings, collections, arrays, error handling, goroutines, slices, maps, channels, numbers, dates, times, files, networking, web apps, the runtime, and more.
Concise and Accessible
Easy to carry and easy to use: Ditch all those bulky books for one portable pocket guide
Flexible and Functional
Packed with more than 100 customizable code snippets: Quickly create solid Go code to solve just about any problem
Register your book at informit.com/register for convenient access to downloads, updates, and corrections as they become available.
Table of Contents
Chapter 1. Introducing Go
Chapter 2. A Go Primer
Chapter 3. Numbers
Chapter 4. Common Go Patterns
Chapter 5. Arrays and Slices
Chapter 6. Manipulating Strings
Chapter 7. Working with Collections
Chapter 8. Handling Errors
Chapter 9. Goroutines
Chapter 10. Concurrency Design Patterns
Chapter 11. Dates and Times
Chapter 12. Accessing Files and the Environment
Chapter 13. Network Access
Chapter 14. Web Applications
Chapter 15. Interacting with the Go Runtime
Chapter 16. Distributing Go Code
Chapter 17. Debugging Go
Book Details
Paperback: 288 pages
Publisher: Addison-Wesley Professional (May 2012)
Language: English
ISBN-10: 0321817141
ISBN-13: 978-0321817143
Download [2.2 MiB]