The Future of Looking Back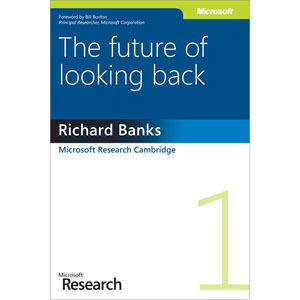 What will we leave behind in this new digital age? As digital technology takes an ever-increasing role in our lives, one question is how we'll manage our collections after we're gone. What takes the place of shoeboxes full of pictures and dog-eared record albums? Get an inside look at Microsoft researcher Richard Banks's thinking about how we might manage the digital artifacts and content we're creating now—and how we might pass on or inherit these kinds of items in the future.
At Microsoft Research, we're driven to imagine and to invent. Our desire is to create technology that helps people realize their full potential, and to advance the state of the art in computer science. The Microsoft Research series shares the insights of Microsoft researchers as they explore the new and the transformative.
Table of Contents
Chapter 1 Getting sentimental
Chapter 2 Attributes of the physical and the digital
Chapter 3 Where the physical and the digital meet
Chapter 4 Our digital lifespan
Chapter 5 A digital death
Chapter 6 Things and experiences
Chapter 7 Recording our lives
Chapter 8 The things we put online
About the Author
Richard Banks is an interaction designer in the Microsoft Research Socio-Digital Systems group, part of the Computer Mediated Living group in the Microsoft Research Cambridge facility. He works primarily on the design of new user experiences for people's everyday lives.
Book Details
Paperback: 184 pages
Publisher: Microsoft Press (September 2011)
Language: English
ISBN-10: 0735658064
ISBN-13: 978-0735658066
Download [5.6 MiB]