The Art of the App Store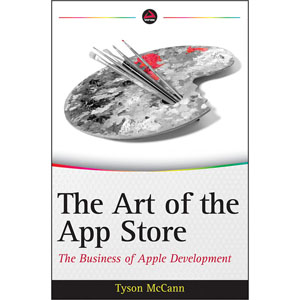 A unique behind-the-scenes look at what makes an application succeed in the App Store
With this invaluable book, Tyson McCann offers a non-technical look at all aspects of the iPhone application development landscape and gets to the core of what makes a popular—and profitable—application. From knowing your customer to to launching a successful app, and everything in between, this must-have guide navigates such topics as developing a concept, analyzing the competition, considerations before the launch, marketing, building a community, and maintaining market share… to name a few.
Coverage includes:
Setting Your Goals, Costs, and Expectations
Researching the App Store Market
Knowing Your Customer
Plotting the Stages of Development
Guidelines and Expectations for Developing Your App
Creating Free and Freemium Apps
Creating Paid and Premium Apps
Adopting Apple's Approach
Riding the Social Networking Wave
Feedback, Maintaining, and Scaling
Open the vault to App Store success with this indispensable guide!
From the Back Cover
Your one-stop shop for planning, creating, marketing, and maintaining your applications
It takes more than a great idea to succeed at iPhone and iPad app development.This indispensible guide provides an in-depth look into the perils and potential of the iPhone and iPad app landscape. The Art of the App Store presents tried and tested methods for competitive research, finding your niche, understanding customer expectations, setting goals and milestones, and managing app development from concept to post-launch. You will find guidelines for developing and pricing your app using the most up-to-date trends, a plan for viral marketing using social networks, metric tracking, taking advantage of feedback, and much more.
The Art of the App Store:
Shows how the App Store has evolved and how to take advantage of the changes
Helps you identify potential costs and decide where to invest your time and money
Analyzes successful and unsuccessful apps, examines existing niches, and shows how to create successful hybrids
Compares the risks and rewards of free, freemium, and premium apps
Explains how to advertise and market your free and lite apps
Offers tried-and-true advice on marketing your apps through social networks
Demonstrates post-launch update strategies to maintain app awareness
Book Details
Paperback: 304 pages
Publisher: Wrox (November 2011)
Language: English
ISBN-10: 0470952784
ISBN-13: 978-0470952788
Download [24.9 MiB]