Siri For Dummies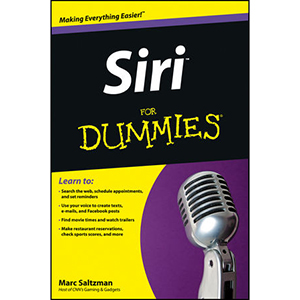 Find out what Siri's got up her sleeve with this fun and friendly guide!
Who couldn't use a little extra help these days? Answers, information, reminders, and all sorts of additional help are only a verbal query away with Siri, the artificial intelligence personal assistant. Siri made her debut with the iPhone 4 and is now updated for iOS 6 as well as the third-generation iPad and she is ready to assist! This easy-to-understand guide walks you through the vast array of capabilities that Siri boasts, from creating texts and e-mails from dictation to getting directions to finding a restaurant in the area. You'll discover how to check the weather, get sports scores and schedules, look up a movie review, get Facebook and Twitter updates, make dinner reservations, and much more.
Explains how to finesse the perfectly worded questions for Siri in order to get the most helpful and accurate answers
Details how to have Siri make phone calls for you, look up information in a dictionary or on the web, or get music
Walks you through using Siri to get stock quotes or enter numbers into a calculator and get an answer
Shows you how to use Siri to set reminders and alarms, take notes, get turn-by-turn driving directions, and more
Just like Siri, the straightforward-but-fun Siri For Dummies is here to help you!
From the Back Cover
Learn to:
Search the web, schedule appointments, and set reminders
Use your voice to create texts, e-mails, and Facebook posts
Find movie times and watch trailers
Make restaurant reservations, check sports scores, and more
Siri is utterly awesome! Make the most of her skills with the advice in this book She's such a charmer, that Siri! Here's how to use your voice-activated assistant to help you review texts and e-mails, take dictation, navigate city streets, find the nearest Chinese restaurant and reserve a table, and get the weather report, sports scores, movie times, and more. Learn all the ways Siri can get you organized, entertain you, and save you time.
Organize your life — let Siri schedule your appointments, move them, keep you on time, and sync your calendar with other devices
Never be lost — get turn-by-turn directions to an address across town or across the country
Get reviews — let Siri help you choose a movie or find great sushi within your budget
Take a letter — dictate your e-mail or text messages and have Siri send them
Find answers — ask Siri to define a word, solve a math problem, or tell you who won the game
Social Siri — post to Facebook®, send tweets, and find your friends with Siri
Open the book and find:
How Siri understands your natural speech
The many ways Siri can speed up mundane tasks
How to launch your favorite apps with Siri
Help setting location-based reminders
Ways Siri can entertain you
All about web-searching with Siri
How to make Siri your DJ
Tips for adding punctuation to your texts and e-mails
Tips for getting walking directions and finding landmarks and other points of interest
Book Details
Paperback: 264 pages
Publisher: For Dummies (November 2012)
Language: English
ISBN-10: 1118508815
ISBN-13: 978-1118508817
Download [66.8 MiB]