SharePoint Server 2010 Enterprise Content Management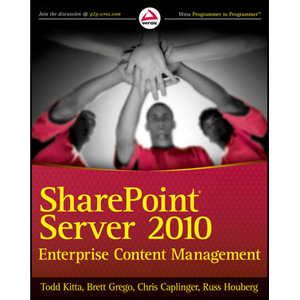 SharePoint experts focus on SharePoint 2010 as a platform for Enterprise Content Management
SharePoint allows all users in an organization to manage and share their content reliably and securely. If you're interested in building Web sites using the new capabilities of enterprise content management (ECM) in SharePoint 2010, then this book is for you. You'll discover how SharePoint 2010 spans rich document management, records management, business process management and web content management in a seamless way to manage and share content.
The team of SharePoint experts discusses the ECM capabilities included in SharePoint Server 2010 that will assist with your workflow and content management. They cover Web content management (WCM) features and discuss accessibility and extensibility as well as scale and compliance.
Shows how to use the capabilities of enterprise content management (ECM) to build Web sites
Covers SharePoint 2010 ECM features and WCM (Web Content Management) features
Reviews workflow and content management, mater pages and layouts, scale and compliance, and accessibility and extensibility
Features real-world examples and code samples to help with your learning process
Packed with code examples and real-world scenarios, this comprehensive book provides you with the information you need to get started using ECM with SharePoint 2010 today.

From the Back Cover
Learn to use SharePoint Server 2010 as a robust platform for ECM
Within the pages of this book, a team of SharePoint Server and Enterprise Content Management (ECM) authorities takes you on a journey that examines the history of ECM, the capabilities that SharePoint Server 2010 offers for ECM, and the high-level ECM pillars that exist within SharePoint Server 2010. Once you have a strong foothold on what ECM is, the authors segue to in-depth coverage of document management and explorations of SharePoint workflow, collaboration, and search concepts as they apply to SharePoint as an ECM platform. Sparing no detail on a wide range of topics, this valuable resource boasts an abundance of helpful code samples and real-world examples to strengthen your learning experience.
SharePoint Server 2010 Enterprise Content Management:
Discusses the features of document management from a user perspective, an administrative perspective, and a technical perspective
Looks at the SharePoint web content management solution as well as how SharePoint provides support for records management
Covers electronic forms management from an ECM angle
Provides guidance for architecting a scalable platform
Reviews the most common document formats
Explores various techniques and protocols for importing content into SharePoint
Book Details
Paperback: 552 pages
Publisher: Wrox (August 2011)
Language: English
ISBN-10: 0470584653
ISBN-13: 978-0470584651
Download [46.6 MiB]