PostgreSQL Server Programming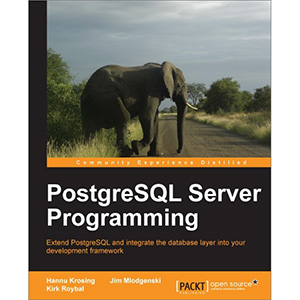 Learn how to work with PostgreSQL as if you spent the last decade working on it. PostgreSQL is capable of providing you with all of the options that you have in your favourite development language and then extending that right on to the database server. With this knowledge in hand, you will be able to respond to the current demand for advanced PostgreSQL skills in a lucrative and booming market.
"PostgreSQL Server Programming" will show you that PostgreSQL is so much more than a database server. In fact, it could even be seen as an application development framework, with the added bonuses of transaction support, massive data storage, journaling, recovery and a host of other features that the PostgreSQL engine provides.
This book will take you from learning the basic parts of a PostgreSQL function, then writing them in languages other than the built-in PL/PgSQL. You will see how to create libraries of useful code, group them into even more useful components, and distribute them to the community. You will see how to extract data from a multitude of foreign data sources, and then extend PostgreSQL to do it natively. And you can do all of this in a nifty debugging interface that will allow you to do it efficiently and with reliability.
What you will learn from this book
Write functions in the built-in PL/PgSQL language or your language of choice
Extract data from foreign data sources
Add operators, data types, and other custom elements
Debug and code efficiently
Decide what machine resources your process will use
Create your own data types, operators, functions, aggregates, and even your own language
Fully integrate the database layer into your development
Approach
This practical guide leads you through numerous aspects of working with PostgreSQL. Step by step examples allow you to easily set up and extend PostgreSQL.
Who this book is for
"PostgreSQL Server Programming" is for moderate to advanced PostgreSQL database professionals. To get the best understanding of this book, you should have general experience in writing SQL, a basic idea of query tuning, and some coding experience in a language of your choice.
Book Details
Paperback: 264 pages
Publisher: Packt Publishing (June 2013)
Language: English
ISBN-10: 1849516987
ISBN-13: 978-1849516983
Download [3.7 MiB]