PHP Cookbook, 2nd Edition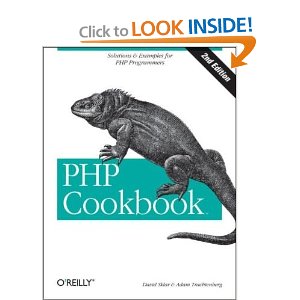 When it comes to creating dynamic web sites, the open source PHP language is red-hot property: used on more than 20 million web sites today, PHP is now more popular than Microsoft's ASP.NET technology. With our Cookbook's unique format, you can learn how to build dynamic web applications that work on any web browser. This revised new edition makes it easy to find specific solutions for programming challenges.
PHP Cookbook has a wealth of solutions for problems that you'll face regularly. With topics that range from beginner questions to advanced web programming techniques, this guide contains practical examples — or "recipes" — for anyone who uses this scripting language to generate dynamic web content. Updated for PHP 5, this book provides solutions that explain how to use the new language features in detail, including the vastly improved object-oriented capabilities and the new PDO data access extension. New sections on classes and objects are included, along with new material on processing XML, building web services with PHP, and working with SOAP/REST architectures. With each recipe, the authors include a discussion that explains the logic and concepts underlying the solution.
Table of Contents
Chapter 1. Strings
Chapter 2. Numbers
Chapter 3. Dates and Times
Chapter 4. Arrays
Chapter 5. Variables
Chapter 6. Functions
Chapter 7. Classes and Objects
Chapter 8. Web Basics
Chapter 9. Form
Chapter 10. Database Access
Chapter 11. Sessions and Data Persistence
Chapter 12. XML
Chapter 13. Web Automation
Chapter 14. Consuming Web Services
Chapter 15. Building Web Services
Chapter 16. Internet Services
Chapter 17. Graphics
Chapter 18. Security and Encryption
Chapter 19. Internationalization and Localization
Chapter 20. Error Handling, Debugging, and Testing
Chapter 21. Performance Tuning and Load Testing
Chapter 22. Regular Expressions
Chapter 23. Files
Chapter 24. Directories
Chapter 25. Command-Line PHP
Chapter 26. PEAR and PECL
Book Details
Paperback: 810 pages
Publisher: O'Reilly Media; 2nd Edition (August 2006)
Language: English
ISBN-10: 0596101015
ISBN-13: 978-0596101015
Download [6.5 MiB]