Photoshop CC: The Missing Manual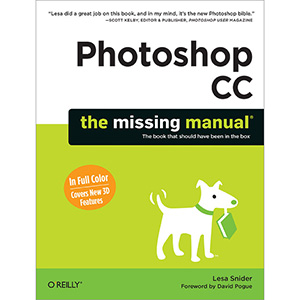 Photoshop CC is truly amazing, but it can also be overwhelming if you're just getting started. This book makes learning Photoshop as easy as possible by explaining things in a friendly, conversational style—without technical jargon. After a thorough introduction to the program, you'll delve deep into Photoshop's secrets with expert tips and practical editing advice you can use every day.
The important stuff you need to know:
Learn your way around. Take a tour of Photoshop's workspace and learn how to customize it.
Unlock the magic. Use layers, masks, and Smart Objects to safely edit your images.
Perfect your photos. Learn techniques for cropping, color-correcting, retouching, and combining photos.
Master color. Drain, change, and add color; create gorgeous black-and-whites, partial-color effects, and duotones.
Be artistic. Create illustrations, paintings, and pro-level text; use filters effectively, edit video, and create 3D art.
Share your work. Produce great-looking images for print, presentations, and the Web.
Work smarter and faster. Automate common chores and install plug-ins for complex tasks.
Table of Contents
Chapter 1. Introduction
Chapter 2. Photoshop CC Guided Tour
Chapter 3. Opening, Viewing, and Saving Files
Chapter 4. Layers: The Key to Nondestructive Editing
Chapter 5. Selections: Choosing What to Edit
Chapter 6. Understanding Channels
Chapter 7. Cropping, Resizing, and Rotating
Chapter 8. Combining Images
Chapter 9. Draining, Changing, and Adding Color
Chapter 10. Correcting Color and Lighting
Chapter 11. Changing Reality: Removing and Repositioning
Chapter 12. The Art of Sharpening
Chapter 13. Painting in Photoshop
Chapter 14. Drawing with the Vector Tools
Chapter 15. Creating Artistic Text
Chapter 16. The Wide World of Filters
Chapter 17. Photoshop and Print
Chapter 18. Photoshop and the Web
Chapter 19. Working Smarter with Actions
Chapter 20. Beyond Photoshop: Plug-Ins
Chapter 21. Photoshop and Video
Chapter 22. Photoshop and 3D
Chapter 23. Using Adobe Bridge
Book Details
Paperback: 928 pages
Publisher: O'Reilly Media / Pogue Press (June 2013)
Language: English
ISBN-10: 1449342418
ISBN-13: 978-1449342418
Download [116.4 MiB]