Pentaho 5.0 Reporting by Example: Beginner's Guide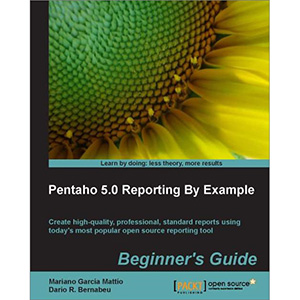 Open source reporting tools and techniques, such as PRD, have been comparable in quality to their commercial counterparts this is largely due to the market's marked tendency to choose open source solutions. PRD is a very powerful tool and in order to take full advantage of it you need to pay attention to the important details.
Pentaho 5.0 Reporting by Example: Beginner's Guide clearly explains the the foundation and then puts those concepts into practice through step-by-step visual guides. Feeling confident with your newly discovered, desirable, skill you will have the power to create your very own professional reports including graphics, formulas, sub-reports and many other forms of data reporting.
Pentaho 5.0 Reporting By Example: Beginner's Guide is a step-by-step guide to create high quality, professional reports. Starting with the basics we will explore each feature to ensure a thorough understanding to peel back the curtain and take full advantage of the power that Pentaho puts at our fingertips.
This book gives you the necessary resources to create a great variety of reports. You will be able to make reports that contain sub-reports, include graphics, sparklines and so on. You will also be able to parameterize your reports so that the final user can decide what information to visualize. You will be able to create your own stoplight type indicators and drill down in your reports. and execute your reports from your own web application.
Pentaho 5.0 Reporting By Example: Beginner's Guide lets you learn everything necessary to work seriously with one of the world's most popular open source reporting tools. This book will guide you chapter by chapter through examples, graphics, and theoretical explanations so that you feel comfortable interacting with Pentaho Report Designer and creating your own reports.
What you will learn from this book
Download, configure, and install Pentaho Report Designer
Create your own data sources or insertable objects that can use them
Produce reports with different hierarchical levels and create aggregate functions to calculate totals and sub-totals
Use parameters in your reports to enable the user to interact directly with your report
Generate your own sub-reports and add graphics and sparklines
Create reports with the capacity to drill down
Publish and execute your reports on the Pentaho BI Server
Produce reports that use session variables such as user, role, to vary their content
Develop your own Java web application to execute your reports.
Approach
Written in a friendly, example driven Beginner's Guide format, there are plenty of step-by-step instructions to get you started fast!
Who this book is for
Pentaho 5.0 By Example: Beginner's Guide is the ideal companion for a wide-variety of developers. Whether you are new to the world of Business Intelligence reporting, or an experienced BI analyst, this book will guide you through the creation of your first reports in Pentaho. We assume some knowledge of the SQL language and database systems.
Book Details
Paperback: 342 pages
Publisher: Packt Publishing (August 2013)
Language: English
ISBN-10: 1782162240
ISBN-13: 978-1782162247
Download [28.7 MiB]