Outsource It!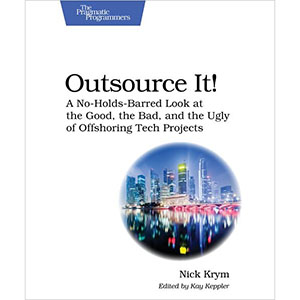 If you need to expand your business but not your budget, if your group has an intense but short-term project, if you don't have the skill set to get a job done-it's time to think about outsourcing. Starting from the first step (should you outsource part of your tech work?) to the last (how can you protect your intellectual property?), you'll learn everything about setting up projects overseas.
Offshore outsourcing can reduce operating expenses, decrease time to market, and provide access to a flexible workforce or hard-to-find skills. To get the most from your outsourced project, you need to know how outsourcing works—what it can do, what it can't do, and what you can expect from it. You'll discover:
A pragmatic, step-by-step guide for setting up and running outsourcing engagements
Proven techniques that will maximize your return on investment and minimize risks
Handy checklists and easy-to-use tools for every step of the outsourcing life cycle
Common offshore outsourcing traps—and tips on how to avoid them
Outsource It! tells you how to estimate your potential savings, how to figure out what, how, and where to go—and how to find that vendor magic. You'll learn how to use metrics, reduce turnover, and perform technical due diligence. And you'll never miss a beat, because the checklists will keep you and your project on track.
Outsource It! is written by a seasoned technology professional with more than 20 years of experience working all sides of outsourcing. Nick's book takes the lessons he learned the hard way and turns them into an easy-to-read, practical guide for technology professionals.
Table of Contents
Part I: Decide If, What, and How to Outsource
Chapter 1. Make an Educated Decision
Chapter 2. Define and Refine Your Action Plan
Chapter 3. Select the Right Sourcing Model
Part II: Find the Right Vendors
Chapter 4. Start with a Broad Search
Chapter 5. Move from a Long List to the Chosen Few
Chapter 6. Choose the Right-Size Vendor
Chapter 7. Find the Personality Magic
Chapter 8. Finalize the Selection
Part III: Negotiate Solid Contracts
Chapter 9. Negotiate for Long-Term Success
Chapter 10. Learn Contract and Rate Essentials
Part IV: Lead Distributed Engagements
Chapter 11. Control Your Engagement
Chapter 12. Build and Lead Distributed Teams
Chapter 13. Adjust Your Development Model to Fit Your Situation
Part V: Keep Risks under Control
Chapter 14. Mitigate the Risks of Your Engagements
Chapter 15. Minimize the Cost of Failures
Chapter 16. Maintain the Spirit of Partnership
Appendix 1. Destination: Asia
Appendix 2. Destination: Europe
Appendix 3. Destination: The Americas
Appendix 4. Outsourcing Readiness Assessment Checklist
Appendix 5. Vendor Search Criteria
Appendix 6. Outsourcing Checklist
Appendix 7. Offshore Vendor Technical Assessment
Book Details
Paperback: 264 pages
Publisher: Pragmatic Bookshelf (January 2013)
Language: English
ISBN-10: 193778505X
ISBN-13: 978-1937785055
Download [7.6 MiB]