NetSuite OneWorld Implementation 2011 R2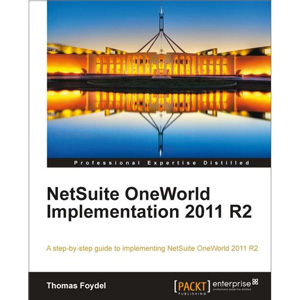 Netsuite OneWorld is a web-based business management system that delivers real-time global business management and financial consolidation to mid-sized companies.
NetSuite OneWorld enables you to manage companies with multiple subsidiaries, business units and legal entities all from a single NetSuite account.
This book shows you how to successfully implement NetSuite OneWorld into your organization.
This book takes you through all the steps to successfully implement NetSuite OneWorld into your organization, helping key corporate decision makers and their staff to assess NetSuite OneWorld as a business management system. The book offers a clear explanation of NetSuite OneWorld, how to implement it and how to extend and administer it. The book starts by covering the strategic assessment of NetSuite OneWorld, in the context of ERP, Software as a Service, and as an integrated business management software package. The book then moves on to NetSuite OneWorld Implementation, including NetSuite OneWorld Basics, CRM and ERP and Web Presence/E-commerce. The book then dives into topics such as Configuring, Customizing, Extending and Administering OneWorld.
What you will learn from this book:
Understand what NetSuite OneWorld represents as a business management system and how it differs from its competitors
Understand the business processes and models supported
Gain insight into the implementation process and what you need to succeed
Learn the base setups to prepare your NetSuite OneWorld system for business configuration
Understand the core functionality of NetSuite OneWorld CRM and how your organization can benefit from sales, marketing and customer service
Learn the core functions of NetSuite OneWorld purchasing, assembly, order management and financial modules and how to exploit them for business advantage
Learn how to integrate your webstore with NetSuite OneWorld to serve your customers easily and efficiently
Understand service project management and how to configure Netsuite OneWorld for project accounting
Learn the details of form, role, dashboard, report and process customization
Includes real world examples implemented in NetSuite OneWorld and the key decision points
Understand data migration in the NetSuite OneWorld implementation and how to migrate successfully
Approach
This book is a focused, step-by step tutorial that shows you how to successfully implement NetSuite OneWorld into your organization. It is written in an easy-to-read style, with a strong emphasis on real-world, practical examples with step-by-step explanations.
The book focuses on NetSuite OneWorld 2011 R2.
Who this book is written for
If you are an application administrator, business analyst, project team member or business process owner who wants to implement NetSuite OneWorld into your organization, then this book is for you. This book might also be useful if you are a business manager considering a new system for your organization, by providing a real assessment of the current system landscape in relation to NetSuite OneWorld.
You should have a basic understanding of business management systems and their implementation. You should also have basic knowledge of NetSuite as an integrated business system and NetSuite OneWorld specifically.
Book Details
Paperback: 400 pages
Publisher: Packt Publishing (November 2011)
Language: English
ISBN-10: 1849681325
ISBN-13: 978-1849681322
Download [15.6 MiB]