NetSuite For Dummies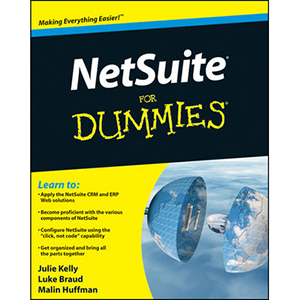 NetSuite is an easy-to-use, customizable enterprise software for running your business.
Part I explains NetSuite basics everyone should know.
Part II focuses on tracking money (accounting, AR, AP, and managing inventory).
Parts III, IV, and V explain how to sell and market your products, take care of customers, and sell goods online with NetSuite.
Part VI describes how to gauge your progress using dashboards and analytics. Bonus chapters provide information about scripting, customization, and setting up your Web site (see the Downloads tab).
Table of contents
Part 1: NetSuite Basics
Part II: Using NetSuite's Various Components
Part III: How to use NetSuite for your specific business
Part IV: Configuring NetSuite
Part V: Getting organized with NetSuite. Bringing it all together
Part VI: Advanced stuffPart VII: The Part of Tens
From the Back Cover
Get the lowdown on NetSuite's CRM and ERP Web-based system right here!
Want to streamline your business? This is your definitive guide to NetSuite, the customizable, Software as a Service (SaaS) system that will make your job easier. With tips on navigating the various parts of the system, using the "click, not code" capability, and extending and integrating NetSuite into other systems, this book will get you up and running.
Learn the basics — get started with setup, customization, forms and records, and terminology
Show me the money — explore bookkeeping, accounting, invoicing, and bill paying
Automate your sales force — develop leads and handle fulfillment, shipping, and customer projects
Attract and keep customers — learn to use NetSuite both as a marketing tool and to manage relationships and customer care
Set up and host your virtual storefront — plan your site, create content, take orders online, and integrate with other sites
Learn analytics features — master saved searches, key performance indicators, and reporting
Visit the companion Web site at www.dummies.com/go/netsuitefd and find seven bonus chapters that help you take NetSuite to the next level, including chapters on managing partner relationships, customization, security, and working with SuiteScript.
Open the book and find:
Fundamentals of NetSuite
How to manage your organization's money more effectively
Tips for streamlining your sales force
Advice for providing excellent customer care
How to enable transactions on your site
Methods for producing real-time business intelligence
Strategies for accessing NetSuite's extreme adaptability
Ten strategies for successful NetSuite implementations
Learn to:
Apply the NetSuite CRM and ERP Web solutions
Become proficient with the various components of NetSuite
Configure NetSuite using the "click, not code" capability
Get organized and bring all the parts together
Book Details
Paperback: 480 pages
Publisher: For Dummies (October 2010)
Language: English
ISBN-10: 0470191074
ISBN-13: 978-0470191071
Download [2.9 MiB]