My Xbox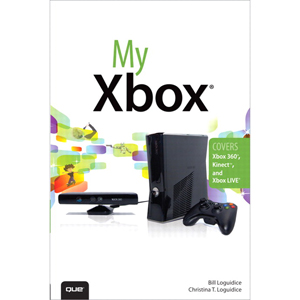 Covers Xbox 360, Kinect, and Xbox LIVE
Step-by-step instructions with callouts to Xbox photos that show you exactly what to do
Help when you run into problems with Xbox 360, Kinect, or Xbox LIVE
Tips and Notes  to help you get the most from your Xbox 360 system
Full-color, step-by-step tasks show you how to have maximum fun with Xbox 360, Kinect, and Xbox LIVE! Learn how to:
Quickly set up your Xbox 360, Kinect sensor, controllers, headset, and storage
Network your Xbox using wireless or wired connections
Join Xbox LIVE and start competing against gamers worldwide
Create your avatar and personalize your entire Xbox experience
Get great new content on Microsoft's Game, Video, and Music Marketplaces
Find, contact, and team up with friends on Xbox LIVE
Protect your kids from inappropriate content
Post on Facebook and Twitter from your Xbox
Discover how Kinect is the future of motion control–now!
Get great performance from your Kinect sensor
Troubleshoot Xbox problems fast, so you can get back to having fun!
Book Details
Paperback: 384 pages
Publisher: Que (February 2012)
Language: English
ISBN-10: 0789748967
ISBN-13: 978-0789748966
Download [70.0 MiB]