My New iPad, 3rd Edition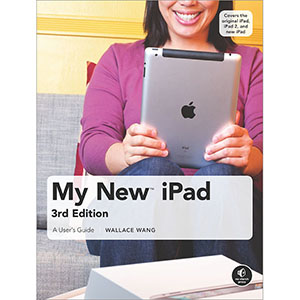 The new iPad is cute. It's loveable. It's fun to play with. But it can also be a bit mysterious.
My New™ iPad is your guide to getting the most from Apple's latest magical creation. Best-selling author Wallace Wang's patient, step-by-step instructions will have you using your new iPad to:
Find your way using the Maps app and the iPad's compass
Get organized with the Notes, Reminders, Calendar, and Contacts apps
Set up your email accounts and browse the Web
Use dictation and keyboard shortcuts to save time typing
Listen to music, read ebooks and magazines, and take photos and videos
Use FaceTime to talk face-to-face with distant friends and relatives
Shop on iTunes and the App Store for the best new music, apps, movies, games, magazines, and books
Set parental controls, use a secret passcode, and encrypt your backups for maximum privacy
And so much more. You'll even learn top-secret touch gestures to help make the most of your iPad. Discover the hundreds of amazing things your iPad can do with My New iPad.
Table of Contents
Part I: Basic Training
Chapter 1. Turning Your iPad On and Off
Chapter 2. Charging and Conserving Battery Power
Chapter 3. Using Your iPad's Physical and Virtual Controls
Chapter 4. Controlling the iPad User Interface
Chapter 5. Using and Customizing the Virtual Keyboard
Chapter 6. Using Dictation and Keyboard Shorcuts
Part II: Making the Most of Your iPad
Chapter 7. Customizing the Home Screen
Chapter 8. Using Parental Controls
Chapter 9. Protecting Your Privacy
Chapter 10. Setting Up an Internet Connection
Chapter 11. Installing (and Uninstalling) Apps
Part III: Getting on the Internet
Chapter 12. Browsing with Safari
Chapter 13. Using Bookmarks with Safari
Chapter 14. Setting Up an Email Account
Chapter 15. Reading, Organizing, and Sending Email
Part IV: Video, Music, Photos, and Ebooks
Chapter 16. Transferring Songs, Videos, and Other Stuff to Your iPad
Chapter 17. Shopping on iTunes and the iBookstore
Chapter 18. Listening to Music
Chapter 19. Watching Video Podcasts, iTunes U Classes, and YouTube Videos
Chapter 20. Reading Ebooks
Chapter 21. Photos, Videos, and FaceTime
Chapter 22. Viewing, Using, and Sharing Photographs
Part V: Organizing Yourself
Chapter 23. Jotting Down Notes
Chapter 24. Staying on Track with Reminders
Chapter 25. Keeping Contact Information
Chapter 26. Using the Calendar
Chapter 27. Using Maps
Chapter 28 Searching Your iPad with Spotlight
Part VI: Additional Tips
Chapter 29. Making Your iPad Accessible
Chapter 30. Using Foreign Languages
Chapter 31. The Best iPad Apps
Chapter 32. Troubleshooting Your iPad
Book Details
Paperback: 312 pages
Publisher: No Starch Press; 3rd Edition (June 2012)
Language: English
ISBN-10: 1593274297
ISBN-13: 978-1593274290
Download [48.1 MiB]