MOS 2010 Study Guide for Microsoft PowerPoint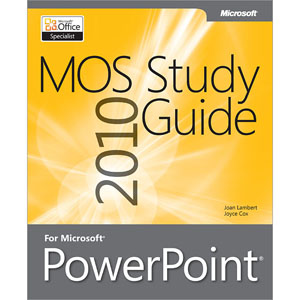 Demonstrate your expertise with Microsoft Excel by earning a MOS 2010 certification. This Study Guide is designed to help you practice and prepare for Exam 77-882: Excel 2010, and features:
Full objective-by-objective review
Procedures and hands-on practice tasks
Ready-made, downloadable practice files
Exam-discount and pre-test offer
Use the in-depth exam prep, practice, and review to help advance your proficiency with Excel 2010—and earn the credential that proves it!
NOTE: This same content is also available as part of the MOS 2010 Study Guide for Microsoft Word, Excel, PowerPoint, and Outlook Exams (ISBN 9780735648753)
About the Author
Joan Lambert is the author or coauthor of more than a dozen books about Windows® and Microsoft Office, including the popularMicrosoft Windows XP Step by Step and 2007 Microsoft OfficeSystem Step by Step. Having learned about computers literally at herfather's knee, Joan's wide-ranging experiences in various facets ofthe computer industry contribute to her enthusiasm for producinginteresting, useful, and understandable training materials. Joan isthe President of Online Training Solutions, Inc. (OTSI) and an avidtelecommuter. The power of the Internet and an obsession withtechnology have made it possible for Joan to live and work in NewZealand, Sweden, Denmark, and various locations in the US duringthe past 15 years. Having finally discovered the delights of a dailydose of sunshine, Joan has settled in San Diego.
Joyce Cox has 25 years' experience developing training materials on technical subjects for non-technical audiences, and has writtendozens of books about Microsoft Office and Windows technologies.
Book Details
Paperback: 158 pages
Publisher: Microsoft Press (September 2011)
Language: English
ISBN-10: 0735662452
ISBN-13: 978-0735662452
Download [15.9 MiB]