Moodle Gradebook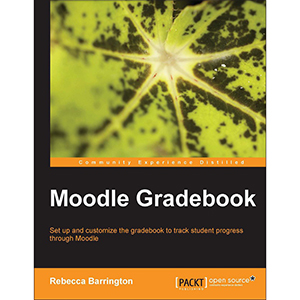 Moodle, as a learning management system, is used to provide resources, interactive activities and assessments to students. Through the use of the gradebook, Moodle can also be used to store grades, calculate final marks and track student achievement and progress to help the teacher manage the learning process.
Through the use of the gradebook, Moodle can also be used to store grades, making it much easier for you to organize your work and relay information to your students. This book provides examples of practical uses of the gradebook to demystify the terminology and options available, allowing you to make full use of the assessment tracking features and, most importantly, customize it to meet your needs.
Moodle Gradebook will introduce you to the core functions of the gradebook as you will learn how to add your own graded activities before marking this work. You will customize how you view the grades and organize the activities so that your course needs are met. You will also use the new completion functions within Moodle 2.x to track progress further. Make the gradebook accommodate your requirements by adding your own grading options and setting it up to present the information you need.
What you will learn from this book
Understand the core functions of the gradebook, what information it shows, and how to get to it.
Add graded assignments to your online course that make use of number and word grades as well as the use of outcomes.
Create categories to arrange graded activities in the gradebook.
Use options to filter the information you want to see.
Discover the preset aggregation types to calculate category and course totals based on the course requirements.
View reports and export data to further review student progress.
Set up activity and course completion to further aid assessment tracking for students and teachers.
Discover the new advanced grading option now available in Moodle 2.
Approach
A practical book with plenty of step-by-step instructions and informative screenshots to guide you through the many features of gradebook.
Who this book is for
Moodle Gradebook is for anyone who uses Moodle as a course instructor. You will need to know the basic functions of using and navigating Moodle, but no prior knowledge of the grades functions will be required.
Book Details
Paperback: 128 pages
Publisher: Packt Publishing (April 10, 2012)
Language: English
ISBN-10: 1849518149
ISBN-13: 978-1849518147
Download [3.1 MiB]