Mobile Web Design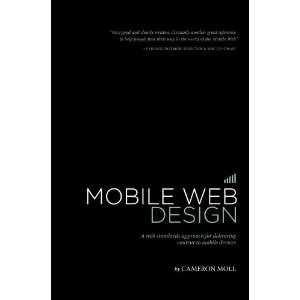 A web standards approach for delivering content beyond the desktop
Much has been written about mobile devices. Plenty has been written about developing websites for the so-called "standards era" of the web. However, little has been written about the two colliding. This resource aims to fill that void.
Reasons to Buy
Discover how to deliver web content to mobile devices (nearly 3 billion worldwide)
100+ pages of practical advice, tips, & examples
More than 40 screens from actual devices
Written by one of the world's leading web designers
If you're in a position to develop for, manage, or give advice regarding your organizations foray into a web strategy for mobile devices, then this book is for you.
About the Author
Co-author of CSS Mastery (http://cssmastery.com) and author of Mobile Web Design (http://mobilewebbook.com), Cameron Moll creates meaningful web interfaces that harmonize utility and presentation. His work or advice has been featured by Forrester Research, Communication Arts, National Public Radio (NPR), HOW Magazine, .net Magazine, and many others. He speaks on user interface design at conferences nationally and internationally, and amid all this craziness he still finds time to play ball with each of his boys.
He also manages Authentic Jobs (http://authenticjobs.com), a targeted destination for standards-aware designers and developers and the companies seeking to hire them.
Cameron is currently employed as Principal Interaction Designer for the LDS Church (http://lds.org), helping to create and manage the many websites and applications of a organization with more than 12 million members worldwide. Cameron resides in Salt Lake City, Utah with his wife Suzanne and four sons. Find him online at http://cameronmoll.com.
Book Details
Paperback: 108 pages
Publisher: Cameron Moll (January 2008)
Language: English
ISBN-10: 0615185916
ISBN-13: 978-0615185910
Download [17.1 MiB]