Microsoft Visual Basic 2010 Developer's Handbook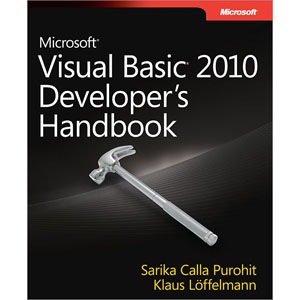 Your expert guide to building modern applications with Visual Basic 2010
Take control of Visual Basic 2010—for everything from basic Windows® and web development to advanced multithreaded applications. Written by Visual Basic experts, this handbook provides an in-depth reference on language concepts and features, as well as scenario-based guidance for putting Visual Basic to work. It's ideal whether you're creating new applications with Visual Basic 2010 or upgrading projects built with an earlier version of the language.
Discover how to:
Use Visual Basic 2010 for Windows Forms and Windows Presentation Foundation projects
Build robust code using object-oriented programming techniques, such as classes and types
Work with events and delegates—and add your own events to custom classes
Program arrays, collections, and other data structures in the Microsoft .NET Framework
Solve problems quickly and easily using My namespace in Visual Basic
Dive into Microsoft LINQ, including LINQ to XML and LINQ to Entities
Tackle threading, multitasking, and multiprocessor development and debugging
About the Author
Klaus Löffelmann is a Microsoft MVP for Visual Basic .NET, and has been a professional software developer for over 20 years. He has written several books about Visual Basic, and is the owner and founder of ActiveDevelop in Lippstadt, Germany, a company specializing in software development, localization, technical literature and training/coaching with Microsoft technologies.
Sarika Calla Purohit is a Software Design Engineer Test Lead on the Visual Studio Languages team at Microsoft. She has been a member of the Visual Studio team for over eight years and has contributed to Visual Basic .Net since version 1.1. Most recently, her team was responsible for testing the Visual Basic IDE in Visual Studio 2010.
Book Details
Paperback: 1024 pages
Publisher: Microsoft Press (August 2011)
Language: English
ISBN-10: 0735627053
ISBN-13: 978-0735627055
Download [47.4 MiB]