Microsoft System Center Data Protection Manager 2012 SP1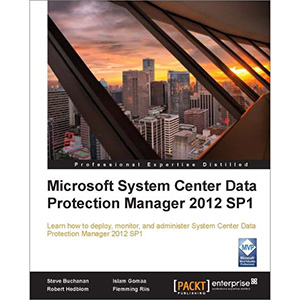 Microsoft System Center Data Protection Manager is a centralized data protection solution. DPM is used for data protection and recovery for Microsoft workloads.
Data Protection Manager allows backup and recovery of Microsoft Workloads, including SQL Server, Exchange, Sharepoint, Client Computers, and Hyper-V. Enabling disk and tape-based backup methods, DPM also allows central management of the system state and "Bare-Metal Recovery".
Microsoft System Center Data Protection Manager 2012 SP1 is a guide for administrators of System Center Data Protection Manager. By the end of this book, users will be able to carry out automated installs, migrate DPM to new hardware, set up custom reporting, use the DPM central console, and implement offsite DPM strategies such as chaining,  monitoring, and cyclic protection.
In this book you will gain insight from Microsoft Most Valued Professionals into the new features in DPM 2012 along with an understanding of the core tasks that administrators will face, including installing and configuring DPM 2012, workload protection, and managing the system. It will also show administrators how to effectively create backups of the protected workloads and use these backups to recover from a disaster.
It will also contain information on backup networks, client protection, and how to automate tasks in DPM to make your job as an administrator easier.
After reading this book you should be confident enough to master protecting your organizations data with Microsoft System Center Data Protection Manager.
What you will learn from this book
Implementation of effective Backup Strategies
How to use DPM Central Console and  SCOM to monitor DPM
Carrying out disaster recovery for DPM
Automation with DPM using System Canter Orchestrator along with PowerShell
Using DPM with workgroups and untrusted domains
How to perform common management tasks for DPM
Better tape management with DPM
Using client protection with DPM
Approach
This book is a Packt tutorial, walking the administrator through the steps needed to create real solutions to the problems and tasks faced when ensuring that their data is protected.
Who this book is for
This book is for network administrators, system administrators, backup administrators, or IT consultants who are looking to expand their knowledge on how to utilize DPM to protect their organization's data.
Book Details
Paperback: 328 pages
Publisher: Packt Publishing (June 2013)
Language: English
ISBN-10: 1849686300
ISBN-13: 978-1849686303
Download [27.2 MiB]