Microsoft SharePoint Designer 2010 Step by Step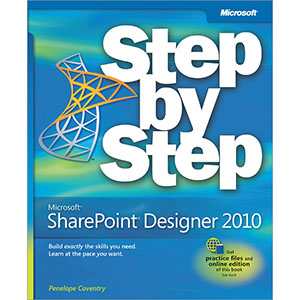 The smart way to build applications with Microsoft® SharePoint® Designer 2010 — one step at a time!
Experience learning made easy — and quickly teach yourself how to create SharePoint 2010 applications and workflows with Microsoft® SharePoint® Designer 2010. With Step by Step, you set the pace — building and practicing the skills you need, just when you need them!
Design solutions to meet your business scenario — without code
Customize lists, libraries, and SharePoint site pages
Use Web Parts to display, edit, and modify list item data
Access data from a variety of external sources
Create workflows to automate business processes
Use master pages and CSS to control how sites work
Your Step by Step digital content includes:
All the books practice files — ready to download and put to work.
Fully searchable online edition of this book — with unlimited access on the Web.
Table of Contents
Part I: Getting Started with Microsoft SharePoint Designer 2010
Chapter 1. Exploring SharePoint Designer 2010
Chapter 2. Working with SharePoint Sites
Part II: Working with Information
Chapter 3. Working with Lists and Libraries
Chapter 4. Creating and Modifying Web Pages
Chapter 5. Working with Data Views
Chapter 6. Working with Data Sources
Chapter 7. Using Business Connectivity Services
Part III: Using Workflow
Chapter 8. Understanding Workflows
Chapter 9. Using Reusable Workflows and Workflow Forms
Part IV: Advanced Customizations
Chapter 10. Branding SharePoint Sites
Chapter 11. Working with Master Pages
Chapter 12. Understanding Usability and Accessibility
Chapter 13. Managing Web Content in the SharePoint Server Environment
Chapter 14. Using Controls in Web Pages
Appendix A. SharePoint Designer Workflow Conditions and Actions
Appendix B. Creating a New Approval Process
Appendix C. Administrative Tasks Using SharePoint 2010
Appendix D. About the Author
Book Details
Paperback: 592 pages
Publisher: Microsoft Press (December 2010)
Language: English
ISBN-10: 0735627339
ISBN-13: 978-0735627338
Download [31.2 MiB]