Microsoft Excel 2013: Building Data Models with PowerPivot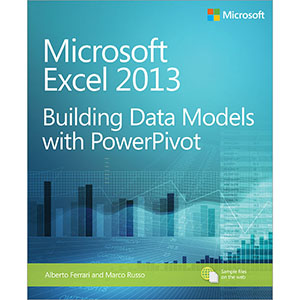 Your guide to quickly turn data into results.
Transform your skills, data, and business—and create your own BI solutions using software you already know and love: Microsoft Excel. Two business intelligence (BI) experts take you inside PowerPivot functionality for Excel® 2013, with a focus on real world scenarios, problem-solving, and data modeling. You'll learn how to quickly turn mass quantities of data into meaningful information and on-the-job results—no programming required!
Understand the differences between PowerPivot for Self Service BI and SQL Server Analysis Services for Corporate BI
Extend your existing data-analysis skills to create your own BI solutions
Quickly manipulate large data sets, often in millions of rows
Perform simple-to-sophisticated calculations and what-if analysis
Create complex reporting systems with data modeling and Data Analysis Expressions
Share your results effortlessly across your organization using Microsoft SharePoint®
Table of Contents
Chapter 1. Introduction to PowerPivot
Chapter 2. Using the unique features of PowerPivot
Chapter 3. Introducing DAX
Chapter 4. Understanding data models
Chapter 5. Publishing to SharePoint
Chapter 6. Loading data
Chapter 7. Understanding evaluation contexts
Chapter 8. Understanding CALCULATE
Chapter 9. Using hierarchies
Chapter 10. Using Power View
Chapter 11. Shaping the reports
Chapter 12. Performing date calculations in DAX
Chapter 13. Using advanced DAX
Chapter 14. Using DAX as a query language
Chapter 15. Automating operations using VBA
Chapter 16. Comparing Excel and SQL Server Analysis Services
Book Details
Paperback: 500 pages
Publisher: Microsoft Press (March 2013)
Language: English
ISBN-10: 0735676348
ISBN-13: 978-0735676343
Download [81.1 MiB]