Mastering Microsoft Exchange Server 2007 SP1, 2nd Edition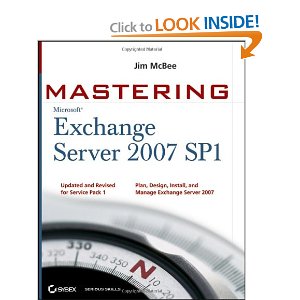 Microsoft Exchange Server provides a reliable messaging system that protects against spam and viruses and allows for access to e-mail, voicemail, and calendars from a variety devices and any location. Fully updated for the latest release of Microsoft Exchange Server 2007 Service Pack 1 (SP1), this book offers a look at the significant improvements and exciting features of SP1 and explains how they will increase productivity. You?ll walk through planning and design, installation, administration and management, maintenance, and more and also take a look at SP1?s interoperability with Windows Server 2008, unified messaging, and enhancements in mobile e-mail security and management.
From the Back Cover
Master the SP1 Release of Exchange Server 2007
Collaboration is essential in business, and the latest SP1 improvements in Exchange Server 2007 make collaborating, calendaring, and sharing databases easier and safer than ever. The new version of this bestselling guide is your one-stop resource for it all.
Step-by-step tutorials walk you through planning, design, installation, and administration of Exchange Server 2007 SP1. You'll master professional techniques, discover SP1's new interoperability with Windows Server 2008, get up to speed on new safeguards for mobile e-mail security, and explore improvements to Exchange ActiveSync and Outlook Web Access.
Whether you're new to Exchange Server 2007 or are seeking instruction in the latest SP1 enhancements, this solid reference has the practical content you need to master Microsoft's widely used groupware solution.
Coverage includes:
Mastering the fundamentals of messaging system administration
Planning, installing, and managing a new Exchange Server 2007 SP1 system or an upgrade
Managing e-mail recipients, address lists, e-mail limits, and storage
Securing messages in transit, including e-mails on mobile devices
Setting up solid processes for backup and disaster recovery
Exploring SP1's new interoperability with Windows Server® 2008
Achieving Unified Messaging with Microsoft Office Communications Server 2007
Examining new features for Outlook® Web Access and ActiveSync®
Design a New Exchange Server 2007 SP1 System or Upgrade
Create, Deploy, and Administer a Collaborative Messaging Solution
Take Advantage of Enhanced SP1 Security, Including Mobile Devices
Log, Audit, and Monitor All Activities to Keep Out Unwanted Content
Learn in the Context of Real-World Scenarios and Tasks
Book Details
Paperback: 1032 pages
Publisher: Sybex; 2nd Edition (February, 2009)
Language: English
ISBN-10: 0470417331
ISBN-13: 978-0470417331
Download [17.9 MiB]