Mastering AutoCAD 2014 and AutoCAD LT 2014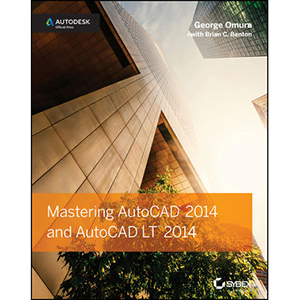 The ultimate reference and tutorial for AutoCAD software
This Autodesk Official Press book helps you become an AutoCAD and AutoCAD LT expert and has been fully updated to cover all of AutoCAD's new capabilities. Featuring the popular, empowering presentation style of veteran award-winning author George Omura, this indispensable resource teaches AutoCAD essentials using concise explanations, focused examples, step-by-step instructions, and hands-on projects.
Introduces you to the basics of the interface and drafting tools
Details how to effectively use hatches, fields, and tables
Covers attributes, dynamic blocks, curves, and geometric constraints
Explores 3D modeling and imaging
Discusses customization and integration
Helps you prepare for the AutoCAD certification exams
Features a website that includes all the project files necessary for the tutorials
This detailed reference and tutorial is the perfect resource for becoming proficient with AutoCAD or AutoCAD LT.
Table of Contents
Part 1: The Basics
Chapter 1. Exploring the Interface
Chapter 2. Creating Your First Drawing
Chapter 3. Setting Up and Using the Drafting Tools
Chapter 4. Organizing Objects with Blocks and Groups
Chapter 5. Keeping Track of Layers and Blocks
Part 2: Mastering Intermediate Skills
Chapter 6. Editing and Reusing Data to Work Efficiently
Chapter 7. Mastering Viewing Tools, Hatches, and External References
Chapter 8. Introducing Printing, Plotting, and Layouts
Chapter 9. Understanding Plot Styles
Chapter 10. Adding Text to Drawings
Chapter 11. Using Fields and Tables
Chapter 12. Using Dimensions
Part 3: Mastering Advanced Skills
Chapter 13. Using Attributes
Chapter 14. Copying Existing Drawings from Other Sources
Chapter 15. Advanced Editing and Organizing
Chapter 16. Laying Out Your Printer Output
Chapter 17. Making "Smart" Drawings with Parametric Tools
Chapter 18. Using Dynamic Blocks
Chapter 19. Drawing Curves
Chapter 20. Getting and Exchanging Data from Drawings
Part 4: 3D Modeling and Imaging
Chapter 21. Creating 3D Drawings
Chapter 22. Using Advanced 3D Features
Chapter 23. Rendering 3D Drawings
Chapter 24. Editing and Visualizing 3D Solids
Chapter 25. Exploring 3D Mesh and Surface Modeling
Part 5: Customization and Integration
Chapter 26. Customizing Toolbars, Menus, Linetypes, and Hatch Patterns
Chapter 27. Managing and Sharing Your Drawings
Chapter 28. Keeping a Project Organized with Sheet Sets
Appendices
Appendix A. The Bottom Line
Appendix B. Installing and Setting Up AutoCAD
Appendix C. The Autodesk AutoCAD 2014 Certification
Book Details
Paperback: 1200 pages
Publisher: Sybex (July 2013)
Language: English
ISBN-10: 1118575040
ISBN-13: 978-1118575048
Download [60.0 MiB]