Lobbyists at Work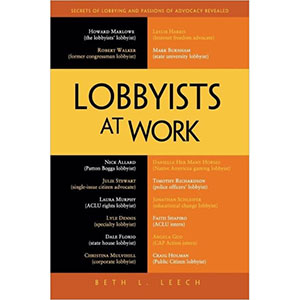 "Lobbyists at Work is a must-read for anyone interested in the serious business of government. Leech's probing questions reflect her years of research tracking the real impact of money and influence on policy." —Thomas Hale Boggs, Jr. (Chairman, Patton Boggs LLP)
Received wisdom has it that lobbyists run the American government on behalf of moneyed interests. But what makes lobbyists run, and how do they induce legislators and bureaucrats to do their bidding? These are questions for which even the harshest critics lack satisfying answers. Lobbyists at Work explores what lobbyists really do and why. It goes behind the scenes and brings back in-depth interviews with fifteen political advocates chosen to represent the breadth and diversity of the lobbying profession.
The interviewees profiled in this book range from the top lobbyists-for-hire at the most powerful K Street firms to pro bono lobbyists for the disenfranchised and powerless. The roster spans all types of lobbyists working for all types of clients and seeking to influence all levels and branches of government. The permutations include business-lobbying-government, government-lobbying-government, government-to-business revolving door, regulatory lobbying, state and local lobbying, citizen-advocacy lobbying,single-issue lobbying, and multiple-issue lobbying. In colorful and sometimes hilarious detail, the interviewees take the reader through their arsenals of traditional and next-generation lobbying techniques, including face-to-face persuasion of elected officials and their staffs, educational campaigns and coalition-building, ghost-drafting complex legislation and regulation for government committees and agencies, contributions, and social media campaigns.
In Lobbyists at Work, the normally self-effacing subjects open up about themselves and their profession: why they chose to become lobbyists, what motivates them to keep lobbying, how they cultivate their lobbying influence, how they adjust to changes in the rules affecting their lobbying methods, and what they actually do at work each day (and night). As an authority on lobbying respected in Washington for her impartiality, Professor Beth Leech elicits frank disclosures, career tips, and riveting stories about the good, the bad, and the ambivalent on both sides of the symbiotic relationship between government officials and lobbyists.
What you'll learn
As a result of reading Lobbyists at Work, you will learn:
what lobbyists really do and to what extent the stereotypes about lobbyists are warranted (if you are a general reader)
expert tips on how to multiply your political influence (if you are a citizen activist)
what types of lobbying jobs are available and how different types of lobbyists spend their workdays (if you aspire to be a lobbyist)
how to manage and build your lobbying career (if you are already a lobbyist)
Howard Marlowe, The Lobbyists' Lobbyist
Robert Walker, Former Congressman Lobbyist
Nick Allard, Patton Boggs Lobbyist
Julie Stewart, Single-Issue Citizen Advocate
Laura Murphy, ACLU Rights Lobbyist
Lyle Dennis, Specialty Lobbyist
Dale Florio, State House Lobbyist
Christina Mulvihill, Corporate Lobbyist
Leslie Harris, Internet Freedom Lobbyist
Mark Burnham, State University Lobbyist
Danielle Her Many Horses, Native American Gaming Lobbyist
Timothy Richardson, Police Officers' Lobbyist
Jonathan Schleifer, Educational Change Lobbyist
Faith Shapiro, ACLU Intern; Angela Guo, CAP Action Intern
Craig Holman, Public Citizen Lobbyist
Who this book is for
Lobbyists at Work appeals to a broad readership, including all American citizens who are alarmed by news coverage of the outsized role of influence-mongering on our system of government and want to dig deeper; students of politics, especially in courses focusing on interest groups; prospective lobbyists finishing their degrees or already working in politics; and the 200,000 lobbyists operating today in the United States.
Table of Contents
Chapter 1. Howard Marlowe, The Lobbyists' Lobbyist
Chapter 2. Robert Walker, Former Congressman Lobbyist
Chapter 3. Nick Allard, Patton Boggs Lobbyist
Chapter 4. Julie Stewart, Single-Issue Citizen Advocate
Chapter 5. Laura Murphy, ACLU Rights Lobbyist
Chapter 6. Lyle Dennis, Specialty Lobbyist
Chapter 7. Dale Florio, State House Lobbyist
Chapter 8. Christina Mulvihill, Corporate Lobbyist
Chapter 9. Leslie Harris, Internet Freedom Advocate
Chapter 10. Mark Burnham, State University Lobbyist
Chapter 11. Danielle Her Many Horses, Native American Gaming Lobbyist
Chapter 12. Timothy Richardson, Police Officers' Lobbyist
Chapter 13. Jonathan Schleifer, Educational Change Advocate
Chapter 14. Angela Guo, CAP Action Intern; Faith Shapiro, ACLU Intern
Chapter 15. Craig Holman, Public Citizen Lobbyist
Book Details
Paperback: 272 pages
Publisher: Apress (May 2013)
Language: English
ISBN-10: 1430245603
ISBN-13: 978-1430245605
Download [2.9 MiB]